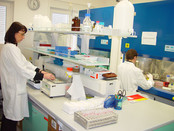 Intellectual Property
Companies whose operations are based on patents or licenses do business in a market that requires interdisciplinary cooperation, where knowledge is the main comparative advantage.
Rudjer Innovations Ltd. Is a company specializing in the commercialization of innovations and technology transfer. It was established as a subsidiary of the Ruđer Bošković Institute, which has the largest researcher base of any Croatian institution.
The intellectual property portfolio of Rudjer Innovations includes innovations protected by patents or patent applications in various fields of science that have commercial potential. They are ready to be commercialized in various ways, depending on the interests and needs of customers and partners.