A method for determining fractions of biological mixtures specific for a physiological condition following chromatographic separation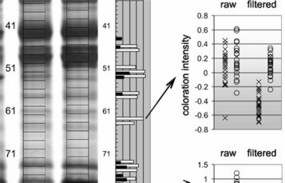 Marketing opportunity
Our computational methodology applies to measurements derived from chromatographic separations of biomolecular mixtures, for instance capillary or gel electrophoresis, affinity chromatography, or gel filtration of proteins or nucleic acids. Biomolecular mixtures normally originate from cell cultures or tissue extracts, which may undergo prior purification to enrich a mixture with a single component (such as phosphorylated or glycosylated proteins, nucleic acids containing certain sequences or bound to certain proteins) or prior digestion of mixture components e.g. treatment with proteolytic enzymes or restriction nucleases.
Innovation description
The present invention provides several advantages over existing methods: it is based on a number of replicated experiments for each sample, drawing on statistical reliability; it provides means for optimising data representation parameters (e.g. resolution) by means of supervised machine learning algorithms; it facilitates removal of components relating to noise and systematic errors in measurements. This results in: (i) reliable determination of relevant fractions for the particular discrimination problem, and (ii) improved computational models for class distinction based on a filtered set of relevant fractions. Due to its high reliability, our computational approach facilitates the use of simple and cheap chromatographic methods in a variety of applications, including medical diagnostics, quality control and basic biomedical science.
Intellectual property status
This innovation is the subject of US patent application. Rudjer Innovations Ltd offers the patent application as well as related know-how and experience to companies interested in commercial exploitation.