Bacterial culture for degradation of atrazine and other s-triazine pesticides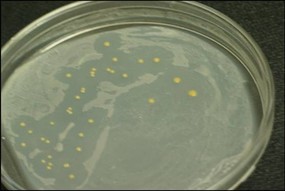 Market opportunity
Atrazine is a selective triazine herbicide used for broad and narrow leaf weed control for more than 30 years. It is used in 80 countries throughout the world – the atrazine market is worth 800 million US $. In USA atrazine is the most widely used herbicide for controlling weeds on corn (on 69 % of acreage) and sugar cane acreage (on 90 % of acreage). Unfortunately, due to its mobility in soil atrazine is one of the most important pollutants of surface and ground water, sea water and soil. Increasing concern about confirmed toxic and ecotoxic properties of atrazine raises the need for new methods for accelerating the biodegradation processes at atrazine-polluted sites.
Innovation description
Atrazine degradation can be achieved by various chemical procedures that all include the use of harmful chemicals and produce harmful by-products. All these methods are applicable for degrading atrazine which was not yet applied to the ground. When it comes to degradation on large soil areas or in water, these methods are neither economic nor simply applicable. The procedure has to be done off site, which means polluted soil has to be dug out while ground water has to be pumped out.
Our method for degradation of atrazine and other s-triazine pesticides using natural microbial culture is a biotechnological process based on bioremediation principles (use of microorganisms for accelerating degradation). It is a cheaper and more environment-friendly solution than classic chemical methods currently used. By simple spraying of a portion of microbial culturein situover polluted soil or by pouring into wastewater container followed by stirring, atrazine is degraded naturally, efficiently and with no hazardous by-products. By binding onto some porous inert carrier, the bacterial culture can degrade atrazine and other s-triazine pesticides directly, also in running waters.
Intellectual property status
This innovation is the subject of Croatian, Australian, Canadian, Chinese and Indian patent application. The patent is granted in the USA and EU (Germany, France and Italy). Rudjer Innovations Ltd. would like to offer the patent applications as well as related know-how and expertise to companies interested in commercial exploitation.