Catalyst for transesterification of vegetable oils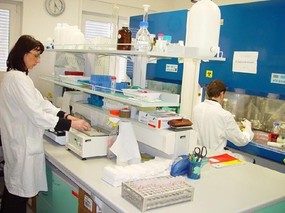 Market opportunity
Biodiesel production, which includes transesterification reaction of vegetable oils using methanol in the presence of a catalyst, is an issue of growing importance in almost every EU country. In Croatia 157,000 tons of biodiesel will be produced by 2010. In EU countries the share of bio fuel usage in overall fuel usage should be 5.75 % by 2010 and reach 20 % by 2020.
Besides biodiesel production, guanidine catalyst can be used in fine chemicals production, organocatalysis, various research areas and wherever a catalyst for transesterification reactions is needed.
Innovation description
Transesterification of vegetable oils using light organic alcohols like methanol or ethanol, which provides a basis for the production of technologically important biodiesel, requires use of highly basic catalysts. Most of the currently used commercial procedures employ sodium methoxide (CH3ONa), whose main disadvantage is a need for absolute water-free solvent. Sodium and potassium hydroxide (NaOH, KOH) or carbonate (Na2CO3, K2CO3) or mixtures of these are also used, as they are very active and relatively cheap. The use of these catalysts is, however, limited and highly dependent on water content in alcohol due to ester hydrolysis reaction followed by soap or emulsion formation from alcohol - oil mixture.
The new catalyst, which was predicted to possess high basicity by theoretical calculations, very efficiently catalyses transesterification reactions of sunflower, rapeseed and soybean oil in methanol with methyl esters of higher fatty acids as main products. Product composition analysis revealed that the starting compound completely underwent transesterification within 1 hour of reaction time.
The catalyst is highly soluble in water and can be bound on a solid inert carrier.
Intellectual property status
The patent for this invention is granted in EU (Germany, France, UK, Italy and Spain) and Croatia. Rudjer Innovations Ltd offers the patents, patent application as well as related know-how and experience to companies interested in commercial exploitation.