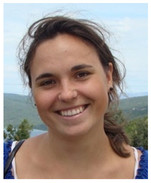 Galja Pletikapić
PhD
+385 1 456 1128

1328
research associate

Krilo 3/207

Bijenička 54,
10 000, Zagreb
Education
2009 - 2013: Interdisciplinary Doctoral Study in Oceanology, Faculty of Science, University of Zagreb,
2002 - 2007: Molecular Bitechnology, Faculty of Biotechnology and Food Technology, University of Zagreb,
Awards and Achievements
2014 Bruker presentation award at AFMBiomed 2014 Conference, San Diego, CA, US
2014 COST TD1002 Short Term Scientific Mission Fellowship
2012 "Ivan Djaja (Jean Giaja)" Young scientist prize for the best poster presentation (Regional Biophysical Conference, Kladovo, Serbia)
2012 Croatian Science Foundation Doctoral Fellowship
2012 L'Oréal UNESCO – "Woman in Science", National Award
2011 Bruker award for technically and visually outstanding AFM image
Featured Publications
Stipić F,Pletikapić G, Jakšić Ž, Frkanec L, Zgrablić G, Burić P, Lyons D. (2015) Application of Functionalized Lanthanide-based Nanoparticles for the Detection of Okadaic Acid-specific Immunoglobulin G. J. Phys. Chem. B., accepted for publication
Pletikapić G, Lannon H, Murvai U, Kellermayer M, Svetličić V, Brujić J. (2014) Self-assembly of polysaccharides gives rise to distinct mechanical signatures in marine gels.Biophysic. J.107: 355-36.
Bosak S,Pletikapić G, Hozić A, Svetličić V, Sarno D, Viličić D. (2012) A novel type of colony formation in marine planktonic diatoms revealed by atomic force microscopy. Plos One,7: e44851.
Pletikapić G, Žutić V, Vinković Vrček I, Svetličić V. (2012) Atomic force microscopy characterization of silver nanoparticles interactions with marine diatom cells and extracellular polymeric substance. J. Mol. Recognit.25: 309-317.
Pletikapić G, Berquand A, Mišić Radić T, Svetličić V. (2012) Quantitative nanomechanical mapping of marine diatom in seawater using Peak Force Tapping AFM.J. Phycol. 248: 175-184.
Pletikapić G, Mišić Radić T, Hozić Zimmermann A, Svetličić V, Pfannkuchen M, Marić D, Godrijan J, Žutić V. (2011) AFM imaging of extracellular polymer release by marine diatomCylindrotheca closterium. J. Mol. Recognit., 24: 436-445.
Membership in professional associations / societies
2012 – present Croatian Microscopy Society
2011 - present Croatian Society for Biochemistry and Molecular Biology
2009 – present Croatian Biophysical Society