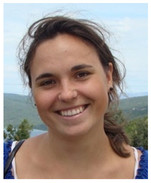 Galja Pletikapić
PhD

1810
research assistent

Krilo 3/221

Bijenička 54,
10 000, Zagreb
Education
VI/2009 - III/2013: Interdisciplinary Doctoral Study in Oceanology, Faculty of Science, University of Zagreb,
IX/2002 - I/2007: Molecular Bitechnology, Faculty of Biotechnology and Food Technology, University of Zagreb,
Awards and Achievements
2012 L'oreal-UNESCO National fellowship "For Woman in Science"
2011 Bruker award for technically and visually outstanding Scanning Probe Microscopy image (marine diatoms in biofilm)
Featured Publications
Bosak ,S., Pletikapić, G., Hozić, A., Svetličić, V., Sarno, D., Viličić, D. (2012) A novel type of colony formation in marine planktonic diatoms revealed by atomic force microscopy. PloS One, 7(9): e44851.
Pletikapić, G., Žutić, V., Vinković Vrček, I., Svetličić, V. (2012) AFM characterization of silver nanoparticles interactions with marine diatom cells and extracellular polymeric substance. J. Mol. Recognit., in press
Pletikapić, G., Berquand, A., Mišić Radić, T., Svetličić, V. (2012) Quantitative nanomechanical mapping of marine diatom.J.Phycol. 48:174-185.
Pletikapić, G., Mišić Radić, T., Hozić Zimmermann, A., Svetličić, V., Pfannkuchen, M., Marić, D., Godrijan, J. & Žutić, V. (2011) Extracellular polymer release AFM imaging of extracellular polymer release by marine diatom Cylindrotheca closterium (Ehrenberg) Reiman& J.C. Lewin. J. Mol. Recognit. 24(3):436-445
Membership in professional associations / societies
2009 – present Croatian Biophysical Society
2011 - present Croatian Society for Biochemistry and Molecular Biology