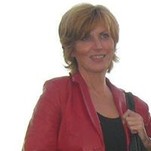 Suzana Šegota
PhD
+385 1 456 1185

1585
1810

+385 1 4680 242
Senior Research Associate

Krilo 3/302

Ruđer Bošković Institute
Bijenička cesta 54
10000 Zagreb
Croatia
Education
2003., PhD., Faculty of Science, University of Zagreb, "Fractal clusters of associated colloids", supervisor prof. Đ. Težak
1998., Master of Science, Faculty of Science, University of Zagreb, "Investigation of Amphiphilic Triblock–Copolymer by Light- and X-Ray Scattering Methods", supervisor prof. Đ. Težak
1993., Bachelor of Science Th., Faculty of Science, University of Zagreb, "Investigation of Angular Light Scattering on Polydispersed particles", supervisor prof. Đ. Težak
Projects
2013 - 2014., "Study of the Interaction of Ligand Coated Nanoparticles with the Lipid Membranes", S. Šegota, Lj. Fruk, DAAD German-Croatian Collaboration Projects, Principle Investigator
Classes
AFM method was applied in realization of three PhD in collaboration with School of Dental Medicine, University of Zagreb; Faculty of Textile Technology, University of Zagreb, and two Bachelor of Science Ths., in collaboratio with Faculty of Mechanical Engineering and Naval Architecture, University of Zagreb
1. Sanja Štefančić "Efect of corrosive medium on the structure and properties of dental ceramics"
School of Dental Medicine, University of Zagrebu, 2013., PhD
2. Sanja Ercegović: "Target modification of textile material properties using plasma and metal compounds", Faculty of Textile Technology, University of Zagreb, 2010., PhD
3. Boris Klaić: "Analysis of the Co/Cr i Ni/Cr alloy surface using Atomic force microscopy at nanometer scalei", School of Dental Medicine, University of Zagreb, 2009., PhD
4. Križan, Ivan: "Characterization of sol-gel TiO2 films on glass substrate", Faculty of Mechanical Engineering and Naval Architecture, University of Zagreb, 2010., Bachelor of Science Thesis
5. Simara Matija: "Preparation and photocatalytic activity of sol-gel TiO2 coatings", Faculty of Mechanical Engineering and Naval Architecture, University of Zagreb, 2009., Bachelor of Science Thesis
Featured Publications
S. Šegota, D. Vojta, G. Pletikapić, G. Baranović, Ionic strength and composition govern the elasticity of biological membranes. Chemistry and Physics of Lipids 186 (2015)17-29.
L. Ćurković, D. Ljubas, S. Šegota, I. Bačić, Photocatalytic degradation of Lissamine Green B dye by using nanostructured sol–gel TiO2 films. Journal of alloys and compounds 604 (2014) 309-316.
A.Štimac, S. Šegota, M. Dutour Sikirić, R. Ribić, L. Frkanec, V. Svetličić, S. Tomić, B. Vranešić, R. Frkanec
Surface Modified Liposomes by Mannosylated Conjugates Anchored via the Adamantyl Moiety in the Lipid Bilayer
Biochimica et biophysica acta. Biomembranes 1818 (2012) 2252-2259.
I. Sondi, B. Salopek-Sondi, S. Škapin, D. Srečo, S. Šegota, I. Jurina, B. Vukelić
Colloid-chemical processes in the growth and design of the bio-inorganic aragonite structure in the scleractinian coral Cladocora caespitosa", Journal of Colloid and Interface Science 354 (2011) 181-189.
S. Šegota, L. Ćurković, D. Ljubas, V. Svetličić, I. Fiamengo Houra, N. Tomašić,
Synthesis, characterization and photocatalytic properties of sol-gel TiO2 films
Ceramics International 37 (2011) 1153-1160.
S. Šegota, Đ. Težak
Spontaneous Formation of Vesicles
Advances in Colloid and Interface Science 121 (2006) 51-75.
Membership in professional associations / societies
Croatian Chemical Society
Croatian Microscopy Society
Croatian Biophysical Society
National representative and MC member COST Action ES1205
Miscellaneous
Other research interests:
structural adaptation of nanoparticles and organic molecules (e.g. flavanoids) within different model membranes
molecular structure, thermodynamics, elastic properties of mixed model membranes using AFM and FTIR spectroscopy