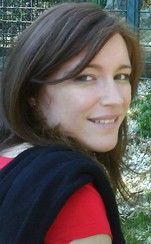 Nikolina Stojanović
B.Sc.
+385 1 456 1145

1545
1876
research assistant

Krilo 5/6

Laboratory for Genotoxic Agents
Division of Molecular Biology
Ruđer Bošković Institute
Bijenička 54
10000 Zagreb
Croatia
Education
2009, Zagreb, Croatia, Faculty of Science, University of Zagreb, B. Sc.(molecular biology)
Featured Publications
Majhen D., Stojanović N., Špeljko T., Brozovic A., De Zan T., Osmak M., Ambriović-Ristov A. Increased expression of the coxsackie and adenovirus receptor downregulates αvβ3 and αvβ5 integrin expression, reduces cell adhesion and migration. Life sciences, 89 (2011), 7-8; 241-249.
Membership in professional associations / societies
Croatian Society for Biochemistry and Molecular Biology (thus member of FEBS)
Croatian Association for Cancer Research (thus member of EACR)
Croatian Genetic Society
Miscellaneous
2013 Guide at the Institute Ruđer Bošković Open Door Days
2011- Chairmen of the Institute's Research Assistant council
2011- Head of Young scientists association, section of Croatian biological society http://mladi-istrazivaci.irb.hr/index.html
2010 Guide at the Institute Ruđer Bošković Open Door Days