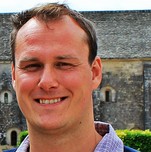 Matija Gredičak
PhD
+385 1 456 0998

1276
postdoc

Krilo 2/132

Rudjer Boskovic Institute
Bijenicka cesta 54
10 000 Zagreb
Croatia
Education
2004 Zagreb - Faculty of Pharmacy and Biochemistry, University of Zagreb - B.sc.
2010 Zagreb - Faculty of Pharmacy and Biochemistry, University of Zagreb - PhD
Featured Publications
Wolstenhulme, J.; Cavell, A.; Gredičak, M.; Driver, R. W.; Smith, M. D. A cation-directed two-component cascade approach to enantioenriched pyrroloindolines Chem. Commun. 50 (2014) 13585-13588.
Knipe, P.C.; Gredičak, M.; Cernijenko, A.; Paton, R.S.; Smith, M.D. Phase-Transfer-Catalysed Synthesis of Pyrrolloindolines and Pyrridoindolines by a Hydrogen-Bond-Assisted Isocyanide Cyclization Cascade Chem. Eur. J. 20 (2014) 3005-3009
Gredičak, M.; Bregović, N.; Carić, D.; Jerić, I. Amino acid-based tweezers: the role of turn-like conformation in the binding of copper(II)J. Inorg. Biochem.116 (2012) 45-52.
Gredičak, M.; Matanović, I.; Zimmermann, B.; Jerić, I. Bergman cyclization of acyclic amino acid-derived enediynes leads to the formation of 2,3-dihydro-benzo[f]isoindoles, J. Org. Chem.75 (2010) 6219-6228.
Membership in professional associations / societies
Croatian Pharmaceutical Society