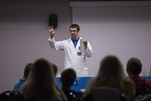 Pavle Trošelj
dr. sc.
+385 1 456 1008

1208
Postodoctoral Research Associate

Krilo 4/6C

Bijenička 54, 10000 Zagreb, Croatia
Featured Publications
Glasovac, Zoran; Trošelj, Pavle; Jušinski, Iva; Margetić, Davor; Eckert-Maksić, Mirjana;
Synthesis of highly basic hexasubstituted biguanides by environmentally friendly methodsSynlett, 2013, 24(19), 2540-2544.
Mazzeo, Giuseppe; Santoro, Ernesto; Andolfi, Anna; Trošelj, Pavle; Petrovic, Ana; Superchi, Stefano, Evidente, Antonio, Berova, Nina
Absolute Configurations of Fungal and Plant Metabolites by Chiroptical Methods. Part 1: ORD, ECD and VCD Studies on Phyllostin, Scytolide, and OxysporoneJournal of Natural Products, 2013,76(4), 588-599.
Trošelj, Pavle, Đilović Ivica, Margetić, Davor
Synthesis of functionalized polynorbornanes employing 2,5-bis(trifluoromethyl)-1,3,4-oxadiazoleJournal of Heterocyclic Chemistry, 2013,50(1), 83-90.
Membership in professional associations / societies
Croatian Chemical Society (2006.-present)