Characterization and identification of pollen by vibrational spectroscopy and chemometrics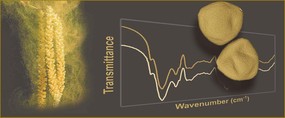 Plant traits, in the form of observable morphological, biochemical and physiological features, relate directly to the functional and reproductive success of plants in their environments. For that reason plant phenotyping is the cornerstone of botany and all plant related studies: from agronomy and forestry to ecology and global climate research. Male gametophytes (pollen grains) have potential for simple, economical and bias-free phenotyping due to microscopic size and stable physical/biochemical properties. Vibrational (infrared and Raman) spectroscopy of pollen offers an operator-independent approach based on chemical characterization via identifiable spectral features (B. Zimmermann, Characterization of pollen by vibrational spectroscopy; Appl. Spectrosc. 64 (2010) 1364-1373).
The spectroscopic study of pollen, financed by UKF (UKF Grant Agreement No. 92/11) and conducted at Norwegian University of Life Science and Nofima, proved the following: (1) The spectra provide a precise fingerprint of overall biochemical composition of pollen grains; (2) Standardization allows reproducible acquirement of pollen spectra in different labs worldwide, (3) Clear spectral differences between pollen samples belonging to different taxa (families, genera and species) have been detected; (4) Clear spectral differences between pollen sampled in different environments indicating that composition of a pollen grain reproduces environmental effects that were shaping the parent plant. Therefore, spectral data enable not only more thorough phenotyping of pollen than grain morphology by microscopy, but also enable simple, rapid and economic assessment of parent plants, their evolutionary history and living conditions.
Project category

Projekti Fonda "jedinstvo uz pomoć znanja"

Project leader / principal investigator




Associates

Dr. Achim Kohler, Norwegian University of Life Science and Nofima-AS (Ås, Norway)
Dr. Harald Martens, Norwegian University of Life Science and Nofima-AS (Ås, Norway)

Project start date

29/05/2011

Project end date

30/11/2011

Project URL