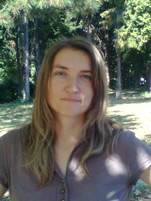 Sanjica Rak
PhD
Assistant
+385 1 457 1293

1545
1305

Krilo 5/006

Laboratory for Genotoxic Agents
Division of Molecular Biology
Ruđer Bošković Institute
Bijenička cesta 54, HR-10000 Zagreb, Croatia

Education
1990-1994 Grammar School (Zabok, Croatia)
1994-1999 University education: University of Zagreb, Faculty of Science - Program of Molecular Biology
2001-2004 Postgraduate studies at University of Zagreb, Molecular and Cell Biology
2004-2010 PhD studies at University of Zagreb, Biochemistry and Molecular Biology
Awards and Achievements
FEBS YTF grant for:
1) FEBS Advanced Lecture Course: "TRANSLATIONAL CANCER RESEARCH", Algarve, Portugal, 2011
2) Advanced FEBS lecture and practical course: "Estimation of DNA damage induced by radiation and genotoxic agents", Gliwice, Poland, 2002
Featured Publications
Jakopec S, Dubravcic K, Brozovic A, Polanc S, Osmak M (2006) Structurally similar diazenes exhibit significantly different biological activity. Cell Biol Toxicol 22(1): 61-71.
Jakopec S, Dubravcic K, Polanc S, Kosmrlj J, Osmak M (2006) Diazene JK-279 induces apoptosis-like cell death in human cervical carcinoma cells. Toxicol In Vitro 20(2): 217-226.
Štefulj J, Jakopec S, Osmak M, Jernej B (2002-2003) Serotonin and apoptosis: studies on rat lymphocytes. Neuroimmunomodulation 10(3): 132-133
Membership in professional associations / societies
Croatian Society of Biochemistry and Molecular Biology (branch of FEBS)
Croatian Association for Cancer Research (branch of EACR)
Miscellaneous
2006. married and have two children (2007. and 2009.)