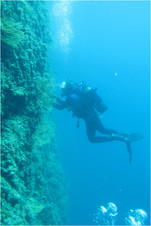 Bruna Pleše
dr. sc.
Senior assistant
+385 1 457 1239

1458

Krilo 5/129

Bijenička cesta 54
Education
2004 Universityof Zagreb, Faculty of Science, Department of Biology, Molecular Biology BSc. in molecular biology
2007 Johannes Gutenberg Universität, Institut für Physiologische Chemie, Abteilung Angewandte Molekularbiologie, Mainz, Germany, PhD in natural science
Featured Publications
Pleše B, Lukić-Bilela L, Bruvo-Mađarić B, Harcet M., Imesek M, Bilandžija H, Ćetković H (2011) The mitochondrial genome of stygobitic sponge Eunapius subterraneus: mtDNA is highly conserved in freshwater sponges. Hydrobiologia doi:10.1007/s10750-011-0789-y.
Lukić-Bilela L, Perović-Ottstadt S, Walenta S, Natalio F, Pleše B, Link T, Müller WEG (2011) ATP distribution and localization of mitochondria in Suberites domuncula (Olivi 1792) tissue. Journal Exp Biol 214: 1748-1753.
Pleše B, Schröder HC, Grebenjuk VA, Wegener G, Brandt D, Natalio F, Müller WEG (2009) Strombine dehydrogenase in the demosponge Suberites domuncula: Characterization and kinetic properties of the enzyme crucial for anaerobic metabolism. Comp Biochem Physiol B, 154: 102–107.
Pleše B, Grebenjuk VA, Schroder HC, Breter HJ, Muller IM, Muller WEG (2008) High expression of the tauropine dehydrogenase, an opine dehydrogenase, in the sponge Suberites domuncula: regulatory control of the anaerobic metabolism. Mar Biol 153(6):1219-1232.
Membership in professional associations / societies
Croatian Genetic Society
Tragus
Foundation AIUNAU
Miscellaneous
2010-present Member of editorial committee for SFBiH (Supplements to Fauna of Bosnia and Herzegovina)