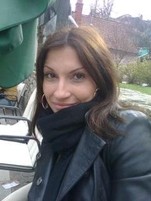 Mirna Halasz
dr.sc.
+385 1 457 1239

1458

Krilo 5/129

Ruđer Bošković Institute
Bijenička cesta 54
10000 Zagreb
Croatia
Featured Publications
Klautau M, Imešek M, Azevedo F, Pleše B, Nikolić V, Ćetković H (2016) Adriatic calcarean sponges (Porifera, Calcarea) with description of six new species and richness analysis. European Journal of Taxonomy 178; 1-52.
Perina D, Korolija M, Popović Hadžija M, Grbeša I, Belužić R,Imešek M, Morrow C, Marjanović Posavec M, Bakran-Petricioli T, Mikoč A, Ćetković H (2015) Functional and Structural Characterization of FAU Gene/Protein from Marine Sponge Suberites domuncula. Marine drugs 13,7; 4179-4196.
Imešek M, Pleše B, Pfannkuchen M, Godrijan J, Marić Pfannkuchen D, Klautau M, Ćetković H (2014) Integrative taxonomy of four Clathrina species of the Adriatic Sea, with the first formal description of Clathrina rubra Sarà, 1958. Organisms Diversity & Evolution 14, 1; 1-9.
Imešek M, Pleše B, Lukić-Bilela L, Lelo S, Ćetković, H (2013) Mitochondrial genomes of the genus Ephydatia Lamouroux, 1816: can palindromic elements be used in species-level studies?. Organisms Diversity & Evolution 13, 2; 127-134.