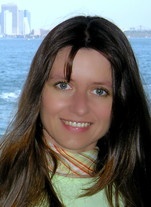 Brankica Mravinac
PhD
Senior Research Associate
+385 1 457 1273

1603

Krilo 5/117

Bijenicka cesta 54
P.O. Box 180
HR-10002 Zagreb
CROATIA

Education
2006 postdoctoral training; Duke Institute for Genome Sciences and Policy, Duke University (Durham, North Carolina, USA)
2004 Ph.D. University of Zagreb, Faculty of Science, Molecular biology
2000 M.Sc. University of Zagreb, Faculty of Science, Molecular and Cellular Biology
1996 B.Sc. University of Zagreb, Faculty of Science, Molecular Biology
Featured Publications
García-Souto D, Mravinac B, Šatović E, Plohl M, Morán P, Pasantes JJ (2017) Methylation profile of a satellite DNA constituting the intercalary G+C-rich heterochromatin of the cut trough shell Spisula subtruncata (Bivalvia, Mactridae). Sci Rep. 7:6930
Nerlović V, Korlević M, Mravinac B (2016) Morphological and molecular differences between the invasive bivalve Ruditapes philippinarum (Adams & Reeve, 1850) and the native species Ruditapes decussatus (Linnaeus, 1758) from the northeastern Adriatic Sea. Journal of shellfish research 35: 31-39.
Meštrović N, Mravinac B, Pavlek M, Vojvoda-Zeljko T, Šatović E, Plohl M (2015)Structural and functional liaisons between transposable element s and satellite DNAs. Chromosome Research 23: 583-596.
Nerlović V, Mravinac B, Devescovi M (2015) Additional information on the blue runner, Caranx crysos (Mitchill, 1815), from the northern Adriatic Sea: meristic and molecular characterizations. Acta Adriatica 56: 309-318.
Plohl M, Meštrović N, Mravinac B (2014) Centromere identity from the DNA point of view. Chromosoma 123: 313-325.
Plohl M, Meštrović N, Mravinac B (2012) Satellite DNA evolution. Genome Dyn. 7: 126-152.
Mravinac B, Meštrović N, Čavrak VV, Plohl, M (2011) TCAGG, an alternative telomeric sequence in insects.Chromosoma120:367-376.
Mravinac B, Plohl M (2010) Parallelism in evolution of highly repetitive DNAs in sibling species.Mol. Biol. Evol.27:1857-1867.
Mravinac B, Sullivan LL, Reeves JW, Yan CM, Kopf KS, Farr CJ, Schueler MG, Sullivan BA (2009) Histone modifications within the human X centromere region.PLoS One4:e6602.
Kim JH, Ebersole T, Kouprina N, Noskov VN, Ohzeki J, Masumoto H, Mravinac B, Sullivan BA, Pavlicek A, Dovat S, Pack S, Kwon YW, Flanagan PT, Loukinov D, Lobanenkov V, Larionov V (2009) Human gamma-satellite DNA maintains open chromatin structure and protects a transgene from epigenetic silencing.Genome Res.19:533-544.
Mravinac B, Plohl M (2007) Satellite DNA junctions identify the potential origin of new repetitive elements in the beetleTribolium madens.Gene394: 45-52.
Mravinac B, Plohl M, Ugarković Ð (2005) Preservation and high sequence conservation of satellite DNAs suggest functional constraints. J. Mol. Evol.61: 542-550.
Mravinac B, Ugarković Ð, Franjević D, Plohl M (2005) Long inversely oriented subunits form a complex monomer ofTribolium brevicornissatellite DNA.J. Mol. Evol60: 513-525.
Mravinac B, Plohl M, Ugarković Ð (2004) Conserved patterns in the evolution ofTriboliumsatellite DNAs.Gene332: 169-177.
Mravinac B, Plohl M, Meštrović N, Ugarković Ð (2002) Sequences of PRAT s atellite DNA "frozen" in some coleopteran species.J. Mol. Evol54: 774-783.
Meštrović N, Plohl M,Mravinac B, Ugarković Ð (1998) Evolution of satellite DNAs from the genusPalorus- experimental evidence for the "library" hypothesis.Mol. Biol. Evol.15: 1062-1068.
Membership in professional associations / societies
Croatian Genetics Society
Croatian Biochemical Society
The Society for Experimental Biology