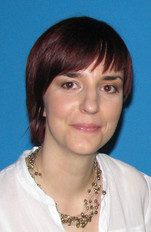 Marija Alešković
PhD
assistant

1465

Krilo 4/7C

Bijenička 54
10 000 Zagreb
Education
2005 – 2011 Graduate doctoral study of chemistry, Department of Chemistry (organic chemistry), Faculty of Science, University of Zagreb, Zagreb
1998 – 2004 Faculty of Science, Department of Chemistry, University of Zagreb, Zagreb (B.Sc.Eng. in Chemistry)
1994 – 1998 Lucijan Vranjanin Gymnasium, Zagreb
Classes
2005 teaching assistant, Faculty of Science, Department of Chemistry, Laboratory course of General and Inorganic Chemistry
Featured Publications
1. M. Alešković, N. Basarić, K. Mlinarić-Majerski, K. Molčanov, B. Kojić-Prodić, M. K. Kesharwani, B. Ganguly, Anion recognition through hydrogen bonding by adamantane-dipyrromethane receptor,Tetrahedron 66 (2010) 1689–1698.
2. M. Alešković, I. Halasz, N. Basarić, K. Mlinarić-Majerski, Synthesis, structural characterization and anion binding ability of sterically congested adamantane-calix[4]pyrroles and adamantane-calixphyrins,Tetrahedron 65 (2009) 2051–2058.
3. M. Renić, N. Basarić, K. Mlinarić-Majerski, Adamantane-dipyrromethanes:novel anion receptors, Tetrahedron Lett. 48 (2007) 7873–7877.
Miscellaneous
1. "Cambridge Structural Database Workshop", Zagreb, 03.-04. 03. 2010.
2. "4th International Summer School: Solid State NMR for Liquid State NMR Spectroscopists" Dubrovnik, 16.-21.09. 2007.
3."New Methodologies and Techniques in Organic Chemistry:Sustainable Development in a Secure Environment (NeMeTOC)
"Certosa di Pontignano, Siena, Italija, 14-23. 10. 2005.