Croatian Science Foundation Projects
The Croatian Science Foundation was established by the Croatian Parliament in December 2001 as the National Endowment for Science, Higher Education and Technological Development of the Republic of Croatia. The primary mission of the foundation is to promote science, higher education and technological development in the Republic of Croatia, with the fundamental goal of ensuring economic development and stimulating employment. The foundation supports scientific, higher education and technological programs and projects, while encouraging international cooperation. This support includes assistance in implementing scientific programs of particular interest in the areas of basic, applied and developmental research.
The aim of the interdisciplinary project is to improve environmental management and increase conservational and social benefits of nature protected areas. We propose to do this by developing a novel, comprehensive method of calculating carrying capacity of protected areas, and demonstrating the method for two protected areas of divergent environmental and socio-economic attributes.
more »
Project addresses two key research objectives in the European Union: energy and environment conservation. The scientific approach is based on a combination of theoretical and experimental knowledge and experience of collaborators, and includes quantum-chemical calculations and molecular modelling in the molecular design, chemical synthesis and study of physico-chemical properties of systems obtained through self-association by non-covalent interactions. It is multidisciplinary, covering topics in physical-organic, supramolecular and computational chemistry, photophysics and materials science.
more »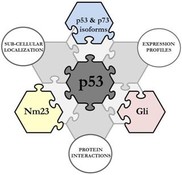 The main focus of this project is to reveal interactions of p53 with protein partners in melanoma that are capable of modifying its function. We are particularly interested in possible interactions of p53 with family members, namely p53 and p73 isoforms, with nm23, especially nm23-H1 and nm23-H2, and Gli family of proteins.
more »