You are sending following URL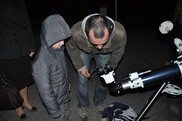 Night under the Stars at the Ruđer is a traditional popular scientific event organized several times a year to promote astro-science as a strategic direction of research, with the goal of educating the Croatian public, especially young people, about the field of astronomy and related scientific disciplines.
more »
Send URL
Send link to this page by e-mail. We don't aquire any personal data about you or e-mail recepient.