Blind extraction of more components than mixtures in 1d and 2d nmr spectroscopy and mass spectrometry by means of sparseness-based robust multicompo...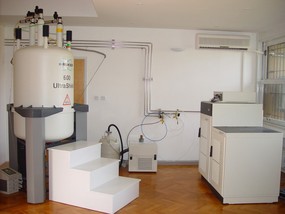 Market opportunity
The invention can be applied in instrumental diagnostics – determination and identification of metabolites and biomarkers present in biological fluids (urine, blood plasma, cerebrospinal fluid, saliva, amniotic fluid, bile, tears, etc.) or tissue extracts that is used for disease diagnostics, xenobiotic toxicity, and nutrition. It can also be in applied in chemical synthesis, food quality inspection or pollution inspection i.e. identification and characterization of compounds obtained from natural sources (microorganisms, plants and animals). Method needs smaller number of measurements to estimate number of pure components in the mixture and thus saves time and resources.
Innovation description
The advantage of the proposed method in comparison to alternative blind decomposition methods is that it is capable of estimating the number of components, their concentrations, and the components themselves from available mixtures even if number of components is greater than the number of mixtures.
Existing methods for pure components extraction use either library based approach, or one of the blind source separation (BSS) methods that require the number of mixtures to be equal to or greater than unknown number of pure components. Two widely used methods with described limitation are independent component analysis (ICA) and nonnegative matrix factorization (NMF).
Our preceding "Method of blind extraction of more than two pure components out of only two mixtures in spectroscopy and spectrometry" can solve problems that ICA and NMF can't but requires high level of sparseness between components in the representation domain. However, the mutual sparseness assumption is severely violated when the number of components, their complexity, or their similarity increases. Our newest method relies on an assumption that components are mutually sparse (do not overlap) at a small number of points only in a suitably chosen basis. Thus, it is successful in blind extraction of components from a small number of even very complex mixtures what is the case when mixtures represent samples isolated from biological fluids or tissue extracts.
Intellectual property status
This innovation is the subject of US and EU patent application. Rudjer Innovations Ltd offers patent application as well as related know-how and experience to companies interested in commercial exploitation.