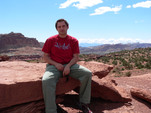 Tin Klanjšček
Ph.D.
+385 1 456 1078

1670

Krilo 3/308

Bijenicka 54
P.O.Box 180
10002 Zagreb

Education
I hold a Ph.D in Biological Oceanography from Woods Hole Oceanographic Institution and Massachusetts Institute of Technology joint program, where I worked on problems in dynamic energy budget (DEB) theory. I hope to utilize the theory to optimize mariculture, and investigate how pollution and food availability interact across multiple generations to affect growth of individuals and populations.
My prior education includes an ingeneering degree in physics at the University of Zagreb, and International Baccalaureate from XV Gimnazium in Zagreb.
Miscellaneous
I am currently
developing tools to assess dynamics of nutrients in integrated mariculture,
improving feeding practices in aquaculture,
modeling effects of nanomaterials on microbial growth,
investigating effects of biodiversity on transport of nanomaterials through the food chain,
collaborating in an effort to estimate impact of global climate change on polar bears by estimating effects of reduced feeding time on their reproduction, and
taking part in an effort to estimate effects of sound pollution on growth and reproduction of marine mammals.