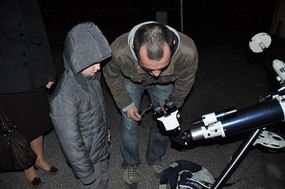 Night under the Stars at the Ruđer is a traditional popular scientific event organized several times a year to promote astro-science as a strategic direction of research, with the goal of educating the Croatian public, especially young people, about the field of astronomy and related scientific disciplines.
So far, five events have been organized at the RBI, as well as one at Ban Jelačić Square in Zagreb and one in the city Dubrovnik, at which visitors participating in a number of lectures and workshops had the opportunity to observe objects of the night sky – the moon, Saturn, the Messier objects, and the stars Albireo, Mizar and Alcor – through very powerful telescopes, as well as the sun through a telescope equipped with an H filter.
Night under the Stars at the Ruđer is jointly organized by the Ruđer Bošković Institute and the Croatian Astronomical Society, with the support of the Zagreb Astronomical Observatory, the Astronomical-Astronautical Society of Zagreb, the Astronomical Society BESKRAJ and the Remetinec Astronomical Society.