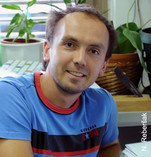 Krunoslav Užarević
dr. sc.
+385 1 457 1217

1295
1432
Scientific associate

Krilo 3/102-105

Ruđer Bošković Institute
Bijenička cesta 54
10000 Zagreb
Croatia
Awards and Achievements
2009 "National award for excellence" obtained from Ministry of Science, Sports and Education.
Featured Publications
Membership in professional associations / societies
Croatian Chemical Society
Croatian Crystallographic Association
Reviewer for CrystEngComm and Journal of Molecular Structure
Miscellaneous
Scientific interests and motivation
My general scientific interests are in the solid-state chemistry of supramolecular host-guest complexes and in the field of coordination compounds. In my research, I combine and compare solution- and solvent-free approaches for synthesis and manipulation of target compounds. These solid-state approaches include mechanochemistry, thermal methods and gas-solid reactions.
Flexible anion receptors
Major part of my research in the field deals with flexible anion receptors, i.e. molecules that employ specific binding functionalities to recognise and selectively bind target specie. During the recognition process, such receptors can change their conformation to adapt to the specific requirements of the guest, and they rarely display high peak selectivity in solution. However, in such systems selectivity is often achieved by selective crystallisation. In our studies, we have developed highly adaptable[1,2] and at the same time highly selective receptor for environmentally important nitrate and sulfate anions. By crystallisation of receptor-anion complexes to hydrogen-bonded networks, these anions were separated form solutions containing large excess of competing anions.
Selective grinding
In our latest study[3] we proved that flexible polyamine receptor is capable to recognise and selectively bind isomeric organic guests from their solid mixtures during the milling process. Regardless of whether the recognition takes place in the solid state via milling or by crystallisation from solution, the resulting supramolecular complexes are the same and the selectivity bias of the receptor towards the guest acids is fully retained. Milling improved yields to quantitative and almost eliminated the use of solvent.
Mechanosensitive metal-ligand bonds in the synthesis of new coordination compounds
In the design of discrete and extended coordination systems, synthesis from preorganized homoleptic or heteroleptic coordination compounds is often utilised. Although each of the types is valuable under specific synthetic requirements, heteroleptic complexes tend to be more advantageous when only a certain amount and type of ligands need to be replaced (ancillary).[4] Such an approach also allows a high level of control over the resulting structure because substitution takes place only at strictly defined coordination sites. We employed various solvent-free approaches (mechanochemistry, thermal methods) to selectively remove specific ligand from the central metal coordination sphere, resulting in coordinatively unsaturated compound. Coordinatively unsaturated complexes, due to their higher reactivity, can be considered as "activated" species and as such are better precursors since there is no competition (discrimination) between the departing and the incoming ligand.[4] In our studies we compare solution and solvent-free synthetic approaches which prove to be superior under specific conditions and their respective advantages and weaknesses are object of examination.[5] While our recent studies included complexes with one mechanosensitive bond, we are concentrated on the study of precursors with two or more mechanosensitive sites and they potential application in the controllable synthesis of higher-ordered coordination networks.
Solid-State Tautomerism
Specific class of ligands used in our laboratory for synthesis of coordination compounds are characterised by strong intramolecular N…H…O hydrogen bond and can occur in the solid state as keto-amino or enol-imino tautomers. Proton transfer in such compounds is usually related with their reactivity, but also with macroscopic properties such as thermochromism and photochromism. Although such compounds and accompanying phenomena have been widely studied, the mechanism of this apparently simple solid-state rearrangement still presents a number of challenges. Main reason for this is that, in contrast to solution, where different tautomers coexist, in the solid state usually only one tautomer appears. Our studies included synthesis of the compounds comprising keto-amino and enol-imino subunits[6] and a unique example of a Schiff base which have crystallised separately as a two polymorphic pairs of keto-amino and enol-imino tautomers, i.e. desmotrops.[7] The relative stabilities and interconversions of the four phases were assessed via various solution and solid-state methods and evaluated against the results of a computational study. Our findings emphasize the importance of intermolecular forces in stabilization of the less stable keto tautomer in the solid state.
References
[1] K. Užarević, I. Ðilović, D. Matković-Čalogović, D. Šišak, and M. Cindrić, Angew. Chem. Int. Ed. (2008) 47, 7022–7025.
[2] K. Užarević, I. Ðilović, N. Bregović, V. Tomišić, D. Matković-Čalogović, and M. Cindrić, Chem. Eur. J. (2011), 17, 10889-10897. (corresponding author)
[3] K. Užarević, I. Halasz, I. Đilović, N. Bregović, M. Rubčić, D. Matković-Čalogović and V. Tomišić, Angew. Chem. Int. Ed. (2013) prihvaćen za objavljivanje, doi: 10.1002/anie.201301032. (corresponding author)
[4] K. Užarević, M. Rubčić, I. Ðilović, Z. Kokan, D. Matković-Čalogović, and M. Cindrić, Cryst. Growth Des. (2009), 9,5327–5333. (corresponding author).
[5] K. Užarević, M. Rubčić, M. Radić, A. Puškarić, and M. Cindrić, CrystEngComm (2011), 13, 4314-4323. (corresponding author)
[6] K. Užarević, M. Rubčić, V. Stilinović, B. Kaitner and M. Cindrić, J. Mol. Struct. 984 (2010), 232-239. (corresponding author)
[7] M. Rubčić, K. Užarević, I. Halasz, N. Bregović, M. Mališ, I. Đilović, Z. Kokan, R. S. Stein, R. E. Dinnebier and V. Tomišić, Chem. Eur. J. (2012) 18, 5620–5631. (corresponding author)