Institute Granted Five UKF Projects worth 6.2 Million Kuna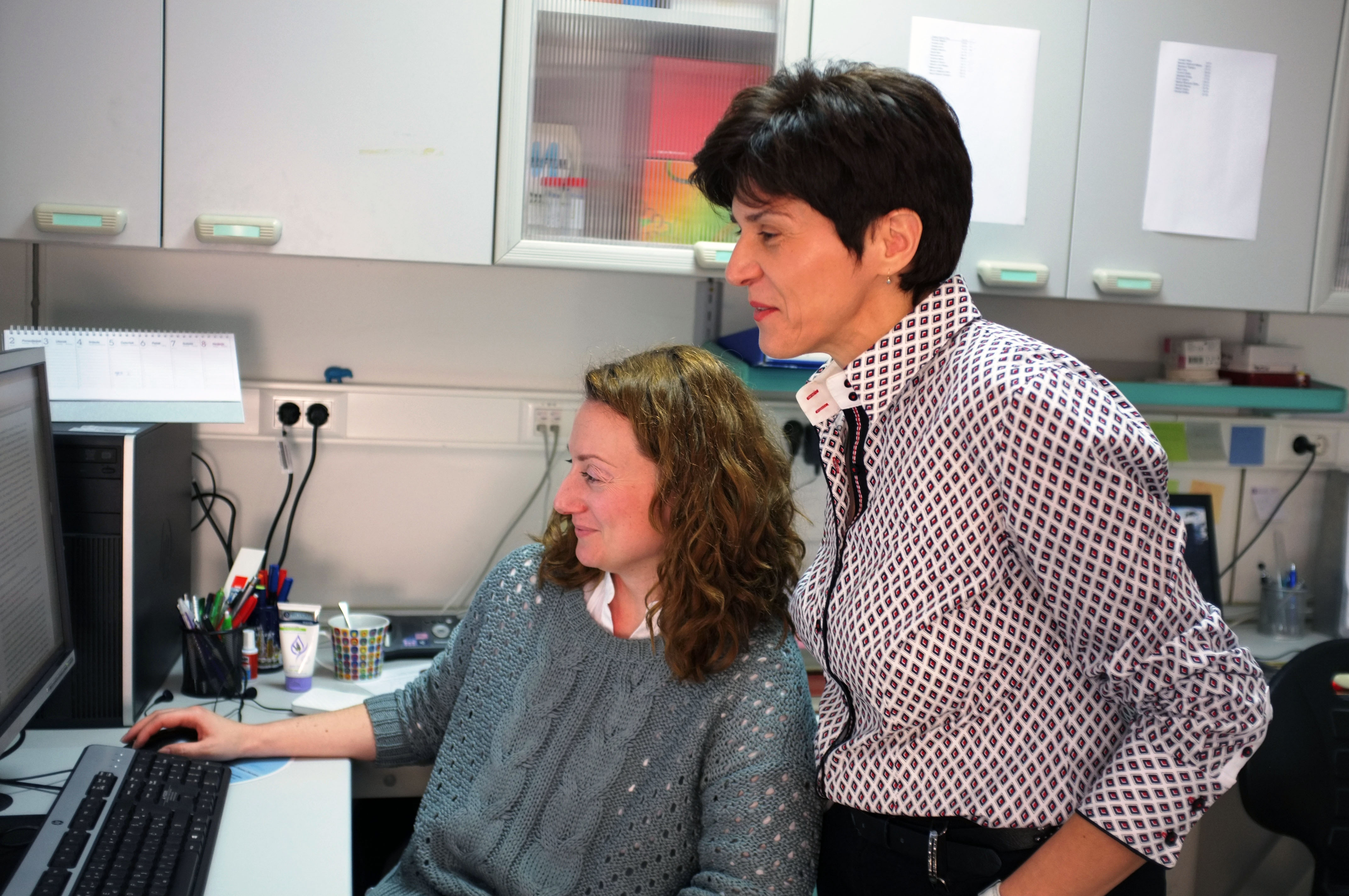 The RBI scientists were granted five projects in total value of 6.2 million euros under Scientific Cooperability Program of the 'Unity through Knowledge Fund'. The project funds will enable complex research such as development and production of antibiotics, understanding of neurodegenerative diseases, and energy conversion in nature, as well as determination of physical characteristics and chemical composition of paint layers, binders and other materials used for dating, attribution and proofing authenticity of the art works by a novel technique applied by only by RBI and two other labs in the world.
Within the Call for Proposal which was announced within the Preparation Advance of Proposed Second Science and Technology Project (STP II) and opened from October 30, 2012 until February 1, 2013, a total of 93 project proposals were submitted (37 projects are in the research area of natural sciences, 23 of bio-medical sciences, 16 of technical sciences, 7 of social sciences, 6 of bio-technical sciences and 4 are in research area of humanities).
Ruđer Bošković Institute was granted a total of five projects. RBI scientist Andrea Mikoč, as co-leader, was granted the project 'Protein ADP-ribosylation in a model prokaryote Streptomyces coelicolor and human' worth 1.35 million kuna which is expected to provide a better understanding of the control of metabolism and the production of antibiotics in the most important producers of antibiotics from natural sources - bacteria (Streptomyces and others).
"A project is implemented in collaboration with the University of Oxford and the project leader Ivan Ahel. Research on S. coelicolor will be done at the RBI, and a part of research on the human system will be done at Oxford." - confirmed Mikoč.
The RBI physicist Ivančica Bogdanović Radović was granted the project 'Study of modern paint materials and their stability using MeV SIMS and other analytical techniques' amounting to 883,941.00 HRK. The project will investigate the aging of modern painting materials especially the art works from the second half of 20th century. During that period, industrial development has caused appearance of many new materials, especially synthetic polymers, which started to be extensively used by artists as binding media. Since behaviour of such materials in contact with others, as well as their degradation under the influence of different environmental conditions is not well understood, it is important to study them by using different chemical and physical characterization methods. The project synergistically combines the knowledge and experience of chemists from the Academy of Fine Arts (Fine Arts) in Vienna under the direction of Dubravka Jembrih-Simbürger and RBI physicists from, and employs a young scientist.
"The aim of this project is to understand how modern painting materials behave under the influence of UV radiation, heat, and moisture and air pollution. In order to get better insight into the behaviour of those materials and their degradation during longer time periods, artificial ageing using (UV) light and corrosion gases will be applied. Samples prepared and treated by artificial ageing will be studied by conventional techniques at the Academy of Fine Arts Vienna and accelerator based analytical techniques at the Ruđer Bošković Institute in Zagreb. Among techniques already in use for the analysis of such materials, we propose here application of one novel technique, namely Secondary Ion Mass Spectrometry using MeV ion excitation (MeV SIMS). Since MeV SIMS is a completely new ion beam analysis technique, used presently (apart from RBI) in only two ion beam laboratories in the world, this project will support the first systematic study of MeV SIMS for analysis of materials used in modern art works." – explained Bogdanović Radović.
The project 'Time resolved photoelectron spectroscopy as a probe for ultrafast excited state dynamics' led by RBI chemist Nađa Došlić was granted 1.16 million kuna. The project will deal with the understanding of the electronic and geometric changes in themolecular system after exposure to electromagnetic radiation and the ways in which the system solves the excess energy acquired in that way, which is of paramount importance for the understanding of energy conversion in nature. This project will be conducted in collaboration with prof. Piero Decleva from the University of Trieste.
"The project combines existing knowledge of two theoretical groups seeking to capitalize upon the long-standing expertise of the Trieste group in the computation of photoionization spectra of medium and large sized molecules by combining it with the complementary expertise of the Zagreb group in nonadiabatic excited state dynamics. Concomitant TRPES experiments will be performed at Elettra, Trieste." - Došlić confirmed.
Various forms of multiferroic compounds such as powder, ceramics, thin films are attracting great interest in fundamental and applied research due to their application possibilities and their widely known use in the design of sensors, actuators and other signalling manipulators. The project 'Multifunctional complex metal tellurates: Structure-property relationship study' worth 1.37 million kuna led by Institute's theoretical physicist Igor Đerđa deals with the preparation, thorough structural analysis, and physico-chemical characterization of Te-based complex metal oxides with particular ferroic or multiferroic properties.
"This is a highly multi-and interdisciplinary project, which means that apart from RBI researchers, the project gathers researchers from the Zagreb Faculty of Science, Institute of Mathematics, Physics and Mechanics in Ljubljana, Research Group from Germany's Karlsruhe Institute of Technology and a group from the University of Colorado with the project co- leader Gordana Duković. The successful realization of this project would allow researchers to jointly apply to the relevant European projects aimed at profiling our project consortium as a centre of excellence in the field of advanced materials." - said Đerđ.
The project 'Lysosomal dysfunction as a common mechanism of neurodegenerative diseases' worth 1, 46 million kuna granted to RBI scientist Silva Katušić Hećimović addresses the study of specific cellular organelles – lysosome. Lysosomes are specific cellular organelles that are normally involved in degradation processes of proteins and other damaged organelles. Dysfunction of lysosomes may lead to abnormal protein accumulation which may cause cell degeneration and death. Such protein accumulation also occurs in the brain cells and triggers development of the devastating neurodegenerative diseases in humans, such as Alzheimer's disease (AD) and Parkinson's disease (PD). The project will be implemented in collaboration with prof. Dimitri Krainc from the Northwestern University.
"This project will generate new ideas for an effective and highly specific therapy against neurodegenerative diseases, including AD and PD. Our results may provide evidence that lysosomal dysfunction is a common mechanism that leads to neurodegeneration and may lead to development of a novel therapeutic strategy against neurodegenerative disorders." - emphasized Katušić Hećimović.
The Unity through Knowledge Fund (UKF) was established in 2007 by the Ministry of Science, Education and Sports on behalf of the government of the Republic of Croatia. The Fund operated within the Science and Technology Project I, which was financed by a loan of the World Bank Nr. 7320-HR. From its establishment until May 2011, the Fund financed 91 scientific and technological projects. A total of 7, 8 million EUR have been invested in the activities of the Fund. The Ministry of Science, Education and Sports (through the World bank loan and from the State budget) ensured nearly 5,1 million Euro, i.e. 65% of the total necessary value for the implementation of the project, while the remaining funds have been ensured by international scientific-research institutions (1,2 million EUR), the private sector (756.526,43 EUR) and Croatian public scientific-research institutions (845.750,54 EUR).