Magnetic "Sandwich" Could Boost Superfast Computers Development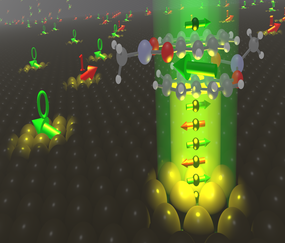 An international team of researchers, including RBI scientist Predrag Lazić, PhD, from the Division of Theoretical Physics, has found a new method of producing molecular magnets which could pave the way for a new generation of data storage media and faster and more energy-efficient computing processors. The results of this research have been published in the renowned journal Nature. 
To boost the performance of computers and reduce their energy requirements, processors and memory have been reducing in size. However, this strategy is about to reach the limits imposed by physics. Components will eventually become too small and therefore unsuitable for secure data storage and processing.
At the level where components consist of only a few atoms, even one atom can significantly change the physical properties of a component. Furthermore, it is very difficult to control the exact number and arrangement of atoms in metals and semiconductors, the same materials used in electronic device components today.
One way out of this "dead-end" could be in so-called "molecular electronics" where nanometre-scale components are made up of molecules. Molecules consist of a fixed number of atoms. They can be designed specifically for various purposes, produced en masse in cost-effective manner and in identical form. Additionally, if the magnetic moment of the electron – the "spin" – is also exploited in addition to its electric charge, it looks as though it may even be possible to implement entirely new functionalities, such as non-volatile RAM or quantum computers.
The researchers from Forschungszentrum Jülich and the University of Göttingen in Germany, Massachusetts Institute of Technology in the USA, Croatian Ruđer Bošković Institute and IISER Kolkata in India applied zinc methyl phenalenyl - ZMP (a small metalorganic molecule which in itself is not magnetic) onto a magnetic layer of cobalt. They showed that ZMP forms a magnetic "sandwich" only in combination with the cobalt surface and that it can be selectively switched back and forth between two magnetic states using magnetic fields.
In this process, the electrical resistance of the layer system changes by more than 20 %. In order to produce these "magnetoresistive" effects necessary to store, process, and measure data in molecular systems, researchers often required temperatures well below -200 °C. Newly developed system shows strong magnetoresistance already at much higher temperatures, i.e., minus 20 degrees Celsius. This is a significant step forward on the way to develop molecular memory and computing elements which operate at room temperature.