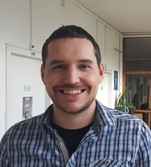 Davor Davidović
PhD
Research associate
+385 1 456 1091

1671
1351

Krilo 1/217

Bijenička cesta 54, Zagreb, Croatia
Education
09/2008 - today: Postgraduate study, Computer science, Faculty of Electrical Engineering and Computing, University of Zagreb
09/2003 - 04/2008: Faculty of Science, Department of Mathematics, University of Zagreb, M.Sc.
09/1999 - 05/2003: High Grammar School, Križanićeva, Zagreb
Awards and Achievements
2015 - Silver Plaque "Josip Loncar" for an outstanding doctoral dissertation awarded by the Faculty of Electrical Engineering and Computing, University of Zagreb
Featured Publications
Publishing in journals indexed in Current Contents:
Aliaga, José I.; Alonso, Pedro; Badía, José M.; Chacón, Pablo; Davidović, Davor; López-Blanco, José R.; Quintana-Ortí, Enrique S.: Fast band-Krylov eigensolver for macromolecular functional motion simulation on multicore architectures and graphics processors. Journal of computational physics, 309 (2016), pp. 314-323
Aliaga, Jose I.; Badia. José M.; Castillo, Maribel; Davidović, Davor; Mayo, Rafael; Quintana-Orti, Enrique S.:Out-of-Core Macromolecular Simulations on Multithreaded Architectures. Concurrency and Computation, 27 (2015), 6; 1540-1550
Aliaga, José Ignacio; Bientinesi, Paolo; Davidović, Davor; Di Napoli, Eduardo; Igual Peña, Francisco D.; Quintana-Ortí, Enrique S.: Solving Dense Generalized Eigenproblems on Multi-threaded Architectures. // Applied mathematics and computation. 218 (2012) , 22; 11279-11289
Singer, Sanja; Singer, Saša; Novaković, Vedran; Davidović, Davor; Bokulić, Krešimir; Ušćumlić, Aleksandar.: Three-Level Parallel J-Jacobi Algorithms for Hermitian Matrices. // Applied Mathematics and Computation. 218 (2012); 5704-5725
International conference proceedings:
Aliaga, José I.; Davidović, Davor; Quintana-Ortí, Enrique S.: Out-of-core solution of eigenproblems for macromolecular simulations // Parallel Processing and Applied Mathematics, Lecture Notes in Computer Science, Vol. 8384 / Wyrzykowski, R., Dongarra, J., Karczewski, K., Waśniewski, J. (ur.). Springer, 2014. 490-499
Davidović, Davor; Quintana-Ortí, Enrique S.: Applying OOC Techniques in the Reduction to Condensed Form for Very Large Symmetric Eigenproblems on GPUs // Euromicro Conference on Parallel, Distributed and Network-based Processing / Rainer Stotzka, Michael Schiffers, and Yiannis Cotronis (ur.). IEEE Computer Society CPS, 2012. 442-449
Singer, S.; Singer, S.; Hari, V.; Bokulić, K.; Davidović, D.; Jurešić, M.; Ušćumlić, A.
Advances in Speedup of the Indefinite One-Sided Block Jacobi Method // AIP Conf. Proc. -- Volume 936 NUMERICAL ANALYSIS AND APPLIED MATHEMATICS: International Conference of Numerical Analysis and Applied Mathematics, Melville, New York : American Institute of Physics, 2007. 519-522
Complete list of publications on bib.irb.hr.
Miscellaneous
Workshops, visits, seminars:
02.-06. July 2012 - SCI-BUS, SHIWA, EDGI joint Summer School on Workflows and Gateways for Grids and Clouds, Budapest, Hungary
02/2011 - 07/2011 - Universitat Jaume I, Spain, PhD experience, long visit: development of the algorithms for solving eigenvalue problems on the GPU architectures, out-of-core algorithms for solving large dense symmetric problems on the GPU
08/2009 - ETH Zurich, short visit: Implementing algorithm for the reduction on the Hessenberg form on the graphic processors (CUDA)
09.-13.02.2009. Athens, Greece: "PRACE Petascale Winter School" - workshop - new technologies in the fields of the distributed and parallel computing