New optical device for enhanced spectroscopy and microscopy based on photonic nanojet
Researchers from Ruđer Bošković Institute in Croatia have developed a new optical device based on the photonic nanojet phenomenon, which is able to enhance measurements in spectroscopic and microscopic applications.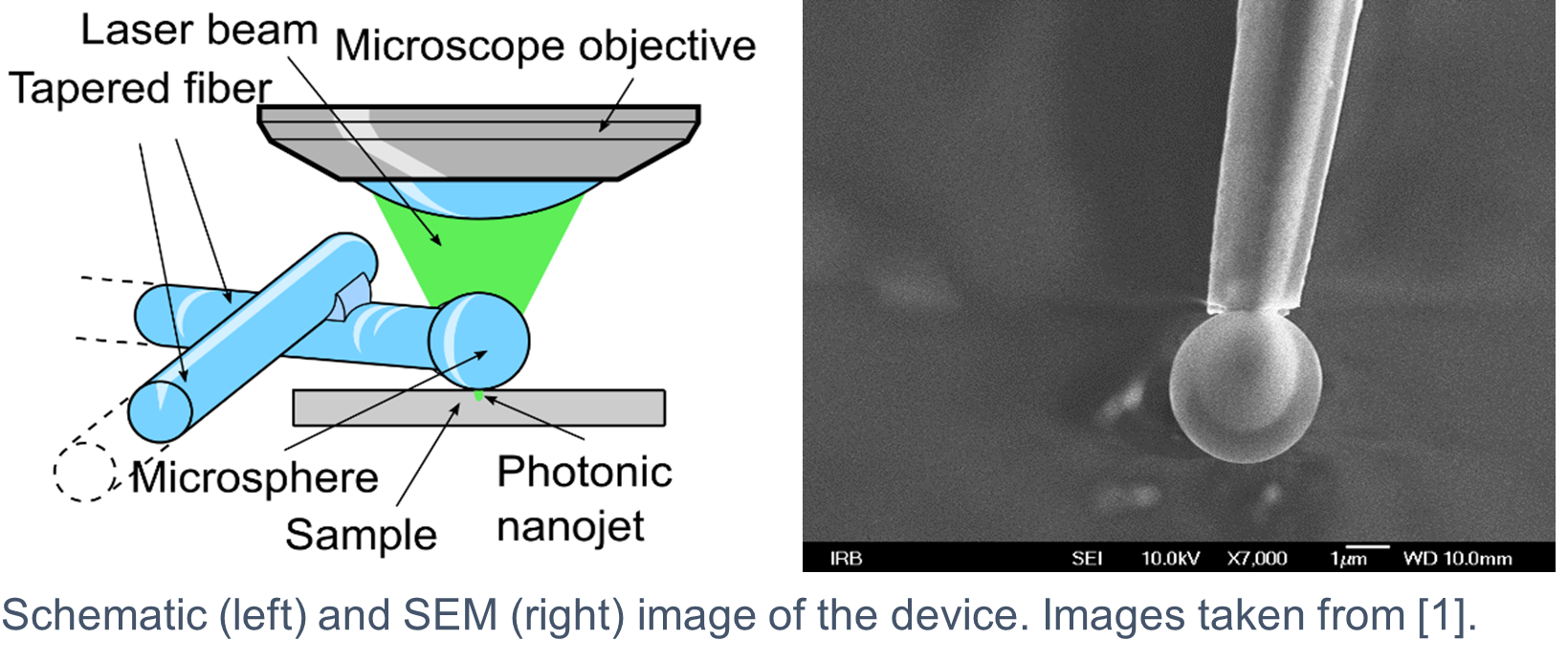 In its main variant, the device consists of two perpendicularly connected tapered optical fibers with a dielectric microsphere attached to the tip of one of the fibers, called a "Two-stemmed microsphere" (TSMS). After positioning the device under the microscope, the microsphere can be aligned under the microscope objective so that the photonic nanojet is created when the microsphere is illuminated with laser or white light.
The photonic nanojet enhances the spectroscopic signal or enhances the resolution of microscopy measurements. Since the microsphere is mechanically fixed with tapered fibers, when the microscope stage moves, the microsphere stays aligned under the microscope objective, which enables for example performing enhanced Raman imaging of the sample of interest.
In its alternative variants, the TSMS can be installed inside the objective adapter and attached to the microscope objective, or the microsphere can be inside a thin film and attached inside the adapter.
Advantages of the device
Multiple applications and use cases in spectroscopy and microscopy, for a broad range of markets
Easy implementation on existing microscopy and spectroscopy equipment
Highly reproducible and stable enhancement results
Low price and high scalability of device manufacturing
Stage of Development
The device is a proof-of-concept validated in Raman imaging application (intensity enhancement of 4x and estimated resolution enhancement of 3x)
Opportunity
RBI is seeking companies interested to commercialize the TSMS device and its variants. The RBI research group is willing to support all activities needed in order to shorten the time to market period.
IP Status and Publication
PCT application PCT/HR2021/000012, Croatian application P20202053A.
[1] Gašparić, Vlatko; Ristić, Davor; Gebavi, Hrvoje; Ivanda, Mile; 2021, Applied surface science, 545, p149036, Resolution and signal enhancement of Raman mapping by photonic nanojet of a microsphere