ASPERA Croatian National Day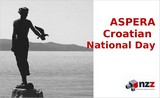 ASPERA Croatian National Day began today at the National Science Foundation in Opatija. ASPERA (Astro Particle ERAnet) is a European network of national institutions which finance projects in astrophysics.
ASPERA aims to stimulate the development of this multidisciplinary research area. The ASPERA Croatian National Day event was attended by scientists, including a large contingent of RBI scientists including Dr. Danica Ramljak, Director General of the RBI and Dr. Tihomir Surić, the National Science Foundation representative to ASPERA.