Croatian PM discusses fight against coronavirus with Croatian scientists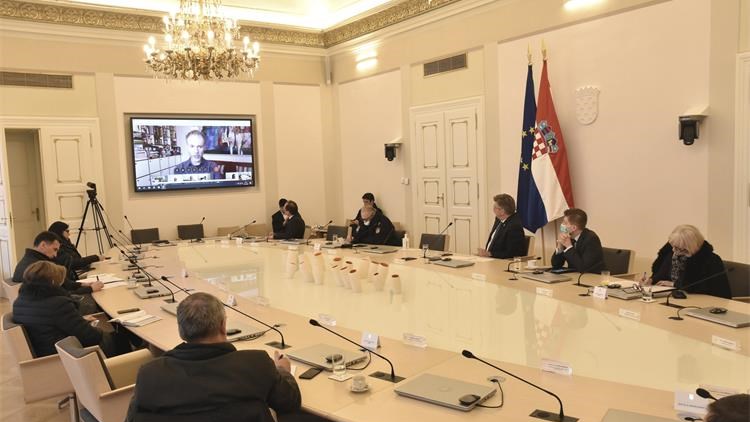 Prime Minister Andrej Plenkovic on Wednesday held a video conference with 12 reputable Croatian scientists who underscored the timely and effective reaction in Croatia in the fight against coronavirus.
The government said in a press release that the meeting with experts in public health, molecular biology, epidemiology, infectology and virology, who work in Croatia and abroad, was held in the context of the government's activities to curb the spread of the coronavirus global pandemic.
The meeting gathered: academician Prof Miroslav Radman (molecular biologist, MedILS), academician Prof Igor Rudan (University of Edinburgh), Prof Nenad Ban (Molecular Biologist, ETH Zurich), Prof Ozren Polašek (epidemiologist, School of Medicine Split), Prof Alemka Markotić (University Hospital for Infectious Diseases ''Dr Fran Mihaljević''), Prof Dragan Primorac (geneticist, president of the Croatian Society for Human Genetics), Prof Gordan Lauc (molecular biologist, Department of Biochemistry and Molecular Biology, Faculty of Pharmacy and Biochemistry), Prof Joseph Car (Health Systems Specialist, Imperial College London & NTU Singapore), Prof Branko Kolarić (epidemiologist, Teaching Institute of Public Health "Andrija Štampar" and Faculty of Medicine in Rijeka), Dr Krunoslav Capak (epidemiologist, Croatian Institute of Public Health), Dr Petra Klepac (epidemiologist, The London School of Hygiene and Tropical Medicine) and Dr Andreja Ambriović Ristov (virologist, Ruđer Bošković Institute).
The purpose of the meeting was to exchange opinions with a multi-disciplinary group of scientists to discuss the measures Croatia has taken in curbing the epidemic, assess the current situation and exchange their thoughts and recommendations for further steps to fight COVID-19.