Croatian President Dr. Ivo Josipović Hosts Working Meeting With Dr. Danica Ramljak, RBI Director-General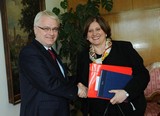 Dr. Danica Ramljak participated in a working meeting with Croatian President Dr. Ivo Josipović at his office on Pantovčak. President Josipović agreed to sponsorship of the 60th Anniversary of RBI and confirmed his attendance at the jubilee celebration.
During their meeting Dr. Ramljak informed the President on the current situation at the RBI, including the current efforts of scientists and employees of RBI aimed at developing RBI into a European Center of Excellence and an internationally recognized institution. RBI is an institution of special national interest with an important role in the development of Croatian science, education and economy.