Open House at the Ruđer Bošković Institute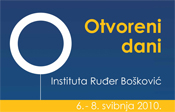 As part of the series of events celebrating the 60th anniversary of the Ruđer Bošković Institute, RBI will open its doors to the citizens of Zagreb and Croatia for the fourth time during the RBI Open House which will be held from May 6th to 8th, 2010.
The RBI Open House is organized to familiarize the public with the work and results of the RBI and also to show how public funds are used to foster higher education, the development of society and the creation of better living conditions for all citizens. This event is also aimed at assisting university graduates in making important life decisions about future career paths in science. Among younger students this event will foster an interest in the natural sciences, biomedicine and information science areas important to economic prosperity in every society.
This year we have organized 16 exhibits which present the world of science in an interesting and approachable manner and answer questions such as "Can 21st century chemistry and ecology go together?", "How to talk to molecules?", "How to determine age?", "What can physics offer us 100 years after the discovery of the atom?", "How to reveal a genetic disease?", "What can we do for the protection of the environment?", "What is the role of the book in the virtual world?", "How do we visualize the micro-world?" and "How do we get sound from noise?". In addition, scientists at the Institute will give a series of popular lecture on current topics in various fields of science. As part of the RBI Open House, the State Intellectual Property Office in cooperation with the RBI spin-off company Ruđer Innovations Ltd will present an exhibition on "Croatian inventors throughout history" as a reminder of the rich tradition of invention and patent protection in Croatia.
The RBI Open House attracts major interest, as seen in the overflow of reservations for organized tours at this event. Primary and secondary school students will be in attendance at the RBI Open House not only from Zagreb county but from other areas of Croatia as well including Rijeka, Split, Pula, Varaždin, Vinkovci, Slavonski Brod, Sinj, Korčula and neighboring Bosnia and Hercegovina. We especially appreciate the enthusiasm of teachers, who bring a new generation of students to this event, and thank them for their efforts. We also expect that citizens, guided by their innate curiousity, stop by the Institute to take a look at what we have prepared for them this year.
The RBI Open House project has become the premiere event promoting science and knowledge as an important determinant in Croatian society.