Professor Marin Soljačić Held a Lecture at the RBI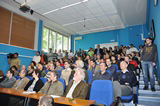 As a part of the activities marking the 60th Anniversary of the Ruđer Bošković Institute, on the invitation of the Director General of the RBI, Danica Ramljak PhD, Professor Marin Soljačić held a lecture today, entitled Photonic Crystals: when the only limit is imagination.
The lecture was focused on photonic crystals, artificially created meta-materials nano-structured on scales smaller than the wavelength of light on which the laws of optical physics change drastically. Professor Soljačić presented different physical phenomena that occur in photonic crystals, including some of the exciting applications that they enable.