Strengthening Cooperation between Science and Industry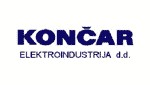 At the invitation of Director General Ms. Danica Ramljak, DVM, PhD, and RBI team, the Chief Executive Officer of Končar- Electrical Industries Inc. Mr. Darinko Bago and his associates Mr. Vladimir Plečko, Management Board member responsible for Corporative Development, Mr. Stjepan Car, President of the Managing Board of Končar - Electrical Engineering Institute Inc. and Mr. Miroslav Poljak, Board member, visited the Institute yesterday.
The representatives have met to discuss the posibilities of strengthening cooperation between RBI and Končar. They have analyized the problems and prospects of linking science and industry in the Republic of Croatia and stressed the importance of improving the information exchange between the RBI and Koncar in the following period. With this aim the paticipants have agreed to launch the joint workshop in September. This workshop will generate focussed presentations by RBI scientists and Končar team, which will enable the two organizations to closely define the scientific and economic topics of common interest.
The repersetatives have also stressed the need to encourage cooperation between Ruđer Bošković Institute, Končar and the Institute for Research and Development of Defence Systems of the Croatian Ministry of Defence on future NATO projects.