The RBI Hosts Regional Conference on Cooperation in Space Technologies
'How can small countries find their role in space activities'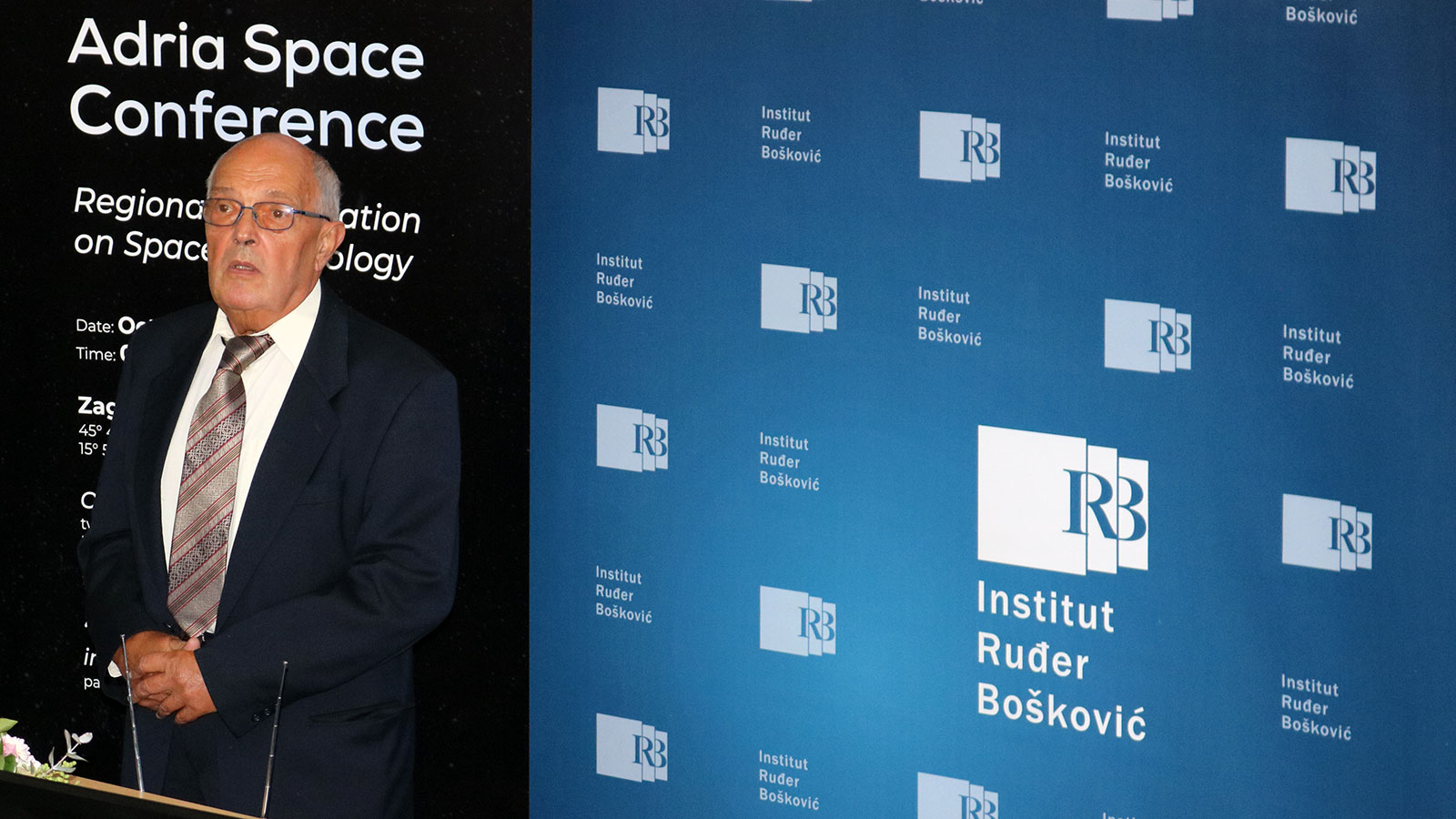 ''The Space sector is evolving rapidly, perhaps more rapidly than ever. Space commercialization is globally at an early stage of development and Croatia has the opportunity to join the project and engage as an active participant. This requires above all clear definition of national strategic direction for development in the field of aerospace, engaging strong partnership of science and technology, as well as activities in the field of space medicine, space law and space tourism,'' are some of the key messages presented at today's Adria Space Conference 2019 held at the Ruđer Bošković Institute.   
The Conference is the first regional meeting devoted to collaboration in space technologies and was organised by Adriatic Aerospace Association (A3), Ruđer Bošković Institute and University of Zadar, with the goal to stimulate and strengthen the regional cooperation in research and development of advanced technologies, mainly used in space activities.
Mr Mario Antonić, the State Secretary at the Croatian Ministry of Economy, Entrepreneurship and Crafts, said that without innovation and research there was no development and that Croatia wanted to speed up those processes in order to catch up with European and global trends. In doing so, we wish to learn from other countries such as Israel, he added.
Israeli Ambassador Ilan Mor said his country was willing to share its experience. Israel, although a small country and despite a hostile environment, looks into space and has more than ten satellites there now, he added.
Space research is important for the future of every country, including Croatia but, unfortunately, we cannot say that Croatia is an active participant, said Dr Tome Antičić, Science State Secretary. He added, that Croatia should be part of the European Space Program, however we should not forget that worldwide the companies are those stakeholders that have been making a significant contribution to this issue.
The RBI director Dr David Matthew Smith said that space research was not reserved only for the big countries despite the general opinion. He added that many small sized companies in Croatia had already been developing specific products and expertizes that may be useful for the space technologies.
Prof Heinz Stoewer, the first Programme Director of the European Space Agency, said the space industry had experienced tremendous growth in recent years, particularly encouraged by small businesses and start-ups.
He estimated that the number of companies looking to do business in the space industry was growing year by year. Among the most famous of them, he mentioned the companies of three billionaires, Elon Musk, founder of SpaceX, Jeff Bezos, founder of Blue Origin, and Richard Branson founder of Virgin Galactic, who invested in a lot of space start-ups because they were thinking long-term.
Looking at the current state of space economy Prof Stoewer noted that the number of small satellites launched into Earth's orbit was constantly increasing. Professor explained that we could expect more than eight thousand new satellites to be launch in the next ten years. He concluded that this opened up new opportunities, which also meant new investments in the development of the space industry, where Europe was still lagging behind the US.
The president of the Adriatic Aerospace Association, Slobodan Dr Danko Bosanac, said the aim of the conference was to encourage and strengthen regional cooperation in the research and development of space technologies, as well as establish contacts to enhance joint project applications in space technologies, rocket power and rocket engineering.
Montenegrin Science Minister Dr Sanja Damjanović presented a project which could help stop and reverse the brain drain problem in South East Europe.
The SEEIIST (Heavy Ions in South East Europe) project combines science and biomedicine, and envisages the construction of a scientific institute in one of the region's countries which would apply hadron therapy for cancer, i.e. treatment via protons and heavy ions, one of the most modern treatment methods for certain types of cancer.
The panel discussion on the topic 'Small Countries in Space Era' has generated very interesting conclusions and a document with recommendations.
These are the conclusions as presented in the is the concluding document:
'How can small countries find their role in space activities'
''This document is result of panel discussion on the topic "Small Countries in Space Era", motivated by the rapidly evolving development in Space exploration, harnessing the benefits from it for the wellbeing of humanity and future presence of humans there. Small countries should also find their role in this endeavour but in competition with large conglomerates the question is HOW?
Preamble
A stable and prosperous society needs to be creative in science and technology, and to be globally competitive. Two factors that determine success are creatively educated members of the community and leadership in new ideas. For a small country, with a reasonably educated population, it is therefore of utmost importance to determine trends in the field of science and technology and to focus their development efforts in this direction. Research and development in Space activities offers opportunities to small countries to participate as an active member. This primarily requires defining strategic direction of development in the field of aerospace high technology industries, basic science and development as well as activities in the field of space medicine, space law and space tourism.
Recommendations
The essential trait of Space programs is interdisciplinary and cutting across the responsibilities of several ministries. Therefore, the basic step towards commencing a Space program is setting up a Space Agency by the funding ministries of Science, Transport, Economy (where technology is incorporated) and Defence.
The National Space Agency should ideally cover all sectors of Space program, with experts in their fields. The follow up of establishing Space Agency is to set up a National Space Strategy that has two principal segments:
1. National Space Program (Research, Technology and Applications)
2. International contacts: ESA, EU, bilateral cooperation
Both these segments form the basis for accession to the membership of European Space Agency. The Space Strategy should encompass the long term and short-term development objectives and define the areas of priority.
The path to becoming a full member of ESA is to first sign a Framework Programme and then to become a co-operating state and thereby join the PECS (Plan for European Cooperating States) programme.
The PECS Charter, which lasts for five years, shall enable the country to develop its space industry with ESA's support. The next step is Associate Membership of ESA and lastly, Full Membership of ESA.
The National Space Agency represents the country in the ESA council and programme boards. It also advises the government on levels of commitment in the optional programmes of ESA in line with the space strategy. To support the creation of space start-up companies it is advisable to set up an ESA Business Incubation Centre (ESA-BIC).
In parallel, there should be a national space programme to prepare industry and academia for the competitive environment of ESA and EC contracts and to enable fruitful bi-lateral collaborations.
As a member of the European Union, the country also participates in the down-stream space programme of the EU, which is implemented by the European Commission. Examples are Satellite Navigation (EGNOS and Galileo), Earth Observation (Copernicus), Space Situational Awareness (SSA) and the GOVSATCOM Programme. To utilize the Public Regulated Service of Galileo Ministries of Interior and Defence should set up a Competent PRS Authority (CPA).''