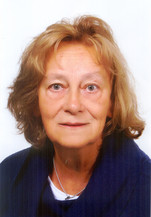 Biserka Kojić-Prodić
Dr. sc.
Distinguished Scientist-Emerita
Researcher
+385 1 468 0126

1529

+385 146890104

+385 91 76395910

Krilo 3/107

Rudjer Boskovic Institute
Bijenicka c. 54
Zagreb,
Croatia
Education
1968 PhD in Chemistry, University of Zagreb
1963 MSc in Chemistry, University of Zagreb
1961 BSc in Chemistry, University of Zagreb
1988 Synchrotron Station DESY Hamburg
1983-1984 University of Utrecht
1976-1977 Medical Foundation of Buffalo, Texas Christian University Fort Worth
1972 University of Uppsala, Chemistry Department
Projects
Principal investigator in 2 Research projects funded by the Croatian Ministry of Science; PI in the Research project funded by Volkswagen-Stiftug (1997-2000), Coordinator and PI in the Research project funded by the EU (Utrecht, 1991-1994),PI in the Research project funded by National Scince Foundation of USA (Buffalo 1988-1992), and a long-time collaboration with PLIVA (Zagreb) pharmaceutical industry (1972-2001); principal investigator in 14 bilateral collaborations.
Awards and Achievements
2011 Rudjer Boskovic Institute Award
2010 National Science Award for Life Achievement
2005 Distinguished Scientist
2003 Member of European Academy of Sciences Brussels
1995 and 2000 DAAD Visiting Scientist Award
1997 Croatian Academy of Science and Arts Award
1971 National Science Award
Classes
Selected Topics on X-ray Crystallography, University of Zagreb, PhD study in Chemistry
Diffraction Methods in Crystallography, University of Zagreb, PhD studies in Chemistry, Life Science, and Pharmacy
Instrumental Analytical Methods, University of Zagreb, Academy of Art, Department of Conservation and Restauration
Featured Publications
Membership in professional associations / societies
European Academy of Sciences, Brussels
Croatian Society for Biochemistry and Molecular Biology
Croatian Crystallographic Association and Croatian Association of Crystallogrphers
Miscellaneous
Research interest: X-ray crystallography - structural chemistry of biologically and pharmacologically active substances; structural molecular biology of plant growth hormone-auxin; molecular enzymology- structure and activity of lipases; correlation of structure & properties, computer modelling and data bases; proton and charge transfer in chemical and biological systems; synthesis of ferroelectrics at high temperature, phase analysis of raw materials and products in industry, analysis of biomaterials used in medicinal diagnostics, characterization of archaeological samples (pigments, stones, books, metal objects), implementation of software and development of numerical methods in crystallography; implementation of databases.