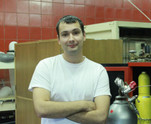 Davor Ristić
dr. sc.
Junior scientist
+385 1 456 1020

1420

098 662 825

Krilo 1/201

Ruder Boskovic Institute
Bijenicka cesta 54
Education
Dipl. inz. fiz, PMF, University of Zagreb
Ph. D. "Physics of condensed matter", University of Zagreb
Projects
The "Novel silicon based materials for optoelectronics" (NSBMO) project financed by the "Provincia Autonoma di Trento" in the framework of the Marie Curie Cofund project "Trentin"
Featured Publications
D. Ristić, M. Ivanda, K. Furić, Application of the phonon confinement model on the optical phonon mode of silicon nanoparticles, Journal of Molecular Structure, 924-926, 291-293 (2009).
D. Ristić, M. Ivanda, K. Furić, U.V. Desnica, M. Buljan, M. Montagna, M. Ferrari, A. Chiasera, Y. Jestin, Raman scattering on quadrupolar vibrational modes of spherical nanoparticles,Journal of Applied Physics, 104, 073519-073519-7 (2008).