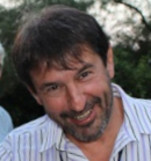 Igor Weber
PhD
senior scientist
+385 1 457 1219

1517

Krilo 5/016

Bijenicka 54
HR-10000 Zagreb
CROATIA
Education
1995 Munich, Technische Universität München, Physik Department, Biophysics, PhD
1992 Zagreb, Zagreb University, Biophysics, MSc
1988 Zagreb, Zagreb University, Faculty of natural sciences and mathematics, Physics, BSc
Projects
2008-2009 Bilateral project (Germany-Croatia): Cytoskeleton dynamics analysis during phagocytosis and cell migration, MZOS and DAAD
2007-2010 UKF 1A project: Biophotonics approach to regulation of the actin cytoskeleton dynamics by small GTPase proteins, UKF
2006- Regulation of the cytoskeleton dynamics in cell motility and cytokinesis, MZOS
2006-2007 Bilateral project (Germany-Croatia): Recruitment dynamics of a protein complex, MZOS and DAAD
2005-2006 Visualization and analysis of microscopical three-dimensional fluorescence distributions, MZOS
Classes
2009-2011 Cell Biophysics, graduate course in Physics and Chemistry Programmes, Faculty of natural sciences and mathematics, University of Zagreb
2009- Cytoskeleton and Cell Motility, graduate course in Biology Programme, Faculty of natural sciences and mathematics, University of Zagreb
2008- Cell Biophysics I, International Postgraduate Programme in Biophysics, University of Split
2008- Experimental Methods of Physics in Biophysics (Advanced Light Microscopy), International Postgraduate Programme in Biophysics, University of Split
2008- Cell Biophysics, Postgraduate Programme in Physics (Biophysics), Faculty of natural sciences and mathematics, University of Zagreb
2008- Experimental Methods of Biophysics, Postgraduate Programme in Physics (Biophysics), Faculty of natural sciences and mathematics, University of Zagreb
Featured Publications
Filić, V., Marinović, M., Faix, J. and Weber, I. (2012). A dual role for Rac1 GTPases in the regulation of cell motility.
J. Cell Sci. 125, 387-398.
Weber, I. (2011). Interference Reflection Microscopy.
Encyclopedia of Life Sciences (ELS), John Wiley & Sons.
Weber, I. (2006). Is there a pilot in a pseudopod?
Eur. J. Cell Biol. 85, 915-924.
Weber, I. (2005). Receptor occupancy on ellipsoidal cell in the presence of a point source of chemoattractant.
J. Chem. Inf. Model.45, 1647-1651.
Medalia, O., Weber, I., Frangakis, A.S., Nicastro, D., Gerisch, G. and Baumeister, W. (2002). Macromolecular architecture in eukaryotic cells visualized by cryoelectron tomography.
Science 298, 1209-1213.
Faix, J., Weber, I., Köhler, J., Mintert, U., Lottspeich, F. and Marriott, G. (2001). The recruitment of cortexillins to the cleavage furrow is controlled by IQGAP-related proteins DGAP1/GAPA and links Rac1-signaling to cytokinesis.
EMBO J. 20, 3705-3715
Weber, I., Neujahr, R., Du, A., Köhler, J., Faix, J. and Gerisch, G. (2000). Two-step positioning of a cleavage furrow by cortexillin and myosin II.
Curr. Biol.10, 501-506.
Weber, I., Gerisch, G., Heizer, C., Murphy, J., Badelt, K., Stock, A., Schwartz, J.-M. and Faix, J. (1999). Cytokinesis mediated through the recruitment of cortexillins into the cleavage furrow.
EMBO J. 18, 586-594.
Niewöhner, J., Weber, I., Maniak, M., Müller-Taubenberger, A. and Gerisch, G. (1997). Talin-null cells of Dictyostelium are strongly defective in adhesion to particle and substrate surfaces and slightly impaired in cytokinesis.
J. Cell Biol. 138, 349-361.
Membership in professional associations / societies
2007- Croatian Society for Natural Sciences
2002- Croatian Society for Theoretical and Mathematical Biology (2005-2006, President)
2002- Croatian Biophysical Society (2006- , member of the Executive Committee)
2002- Croatian Microscopy Society
Miscellaneous
ELMI, European Light Microscopy Initiative, member
EURO-BioImaging, ESFRI (European Strategic Forum for Research Infrastructure), member