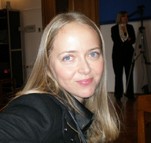 Katja Ester
PhD
Research associate

1772
1285

Biologija 2/1

Bijenička 54,
10000 Zagreb
Croatia
Education
Natural Sciences and Mathematics Faculty, Zagreb University, 1992-1998, B.Sc., Molecular Biology
Natural Sciences and Mathematics Faculty Graduate School, Zagreb University, 2000-2006., Ph.D., Biology
Awards and Achievements
Third prize, National competition for guitar students, Velika Gorica, Croatia, 1986
Student Scholarship to top students, 1998-1992
Certificate of Appreciation to top students, V Gymnasium Zagreb, 1992
Certificate of Appreciation, Rudjer Bošković Open Days Organizing Comity, 2004
The Best Poster Award: Third Croatian Congress of Pharmacology, Zagreb, Septembar 18-21, 2001.
FEMS award to outstanding young scientists to participate on Scientific Meeting 'Workshop on molecular pathogenesis of Marek's disease and avian immunology', Cyprus, October 2002
Classes
Graduate course: Functional genomics, Graduate School Molecular Biosciences, Dubrovnik
Featured Publications
Ester, Katja; Supek, Fran; Majsec, Kristina; Marjanović, Marko; Lembo, David; Donalisio, Manuela; Šmuc, Tomislav; Jarak, Ivana; Kraminski-Zamola, Grace; Kralj, Marijeta. Putative mechanisms of antitumor activity of cyano-substituted heteroaryles in HeLa cells. Investigational New Drugs. 2012 Apr;30(2):450-67
Ester, Katja; Hranjec, Marijana; Piantanida, Ivo; Caleta, Irena; Jarak, Ivana; Pavelić, Krešimir; Kralj, Marijeta; Karminski-Zamola, Grace.
Novel Derivatives of Pyridyl-Benzo(b)thiophene-2-carboxamides and Benzo(b)thieno(2,3-c)naphthyridin-2-ones: Minor Structural Variations Provoke Major Differences of Antitumor Action Mechanisms. Journal of Medicinal Chemistry. 52 (2009), 8; 2482-2492.
Membership in professional associations / societies
Croatian Biological Society
EACR (European Association of Cancer Research)
FEMS
Miscellaneous
Voluntary work:
Petrova Gynaecology Clinic, Zagreb, 1996
Division of Molecular Medicine, Rudjer Bošković Institute, 1999-2000.