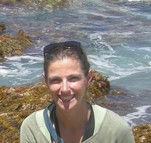 Ljiljana Iveša
PhD
Scientific associate
+385 52 804 728

728

052 804 780

+385 91 1573197

Rovinj

Center for Marine Research
Ruđer Bošković Institute
G. Paliaga 5
52 210 Rovinj
Croatia
Education
1996 B. Sc. in Biology – Ecology, University of Zagreb, Faculty of Science, Zagreb, Croatia
2001 M. Sc. in Oceanology, University of Zagreb, Faculty of Science, Zagreb, Croatia
2005 Ph. D. in Biology, University of Zagreb, Faculty of Science, Zagreb, Croatia
Classes
Lecturer at Undergraduate study in Marine Sciences at University Juraj Dobrila in Pula:
Phycology
Ecology of macroalgae and invasive species
Marine biology fieldwork
Featured Publications
Iveša L., Chapman M.G., Underwood A.J., Murphy R.J. 2010. Differential patterns of distribution of limpets on intertidal seawalls: experimental investigation of the roles of recruitment, survival and competition. Marine Ecology Progress Series 407: 55-69.
Iveša L., Lyons D.M., Devescovi M. 2009. Assessment of the ecological status of north-eastern Adriatic coastal waters (Istria, Croatia) using macroalgal assemblages for the European Union Water Framework Directive. Aquatic Conservation: Marine and Freshwater Ecosystem 19: 14-23.
Iveša L., Jaklin A., Devescovi M. 2006. Vegetation patterns and spontaneous regression of Caulerpa taxifolia (Vahl) C. Agardh in Malinska (Northern Adriatic, Croatia). Aquatic Botany 85: 324-33
Iveša L. 1998. Sea urchin Paracentrotus lividus (Lamarck, 1816) (Echinodermata, Echinoidea) population of the southern Istria (Adriatic Sea). Periodicum Biologorum 100: 93-99.
Membership in professional associations / societies
British Pycological Society