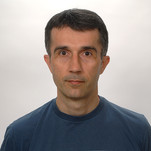 Tvrtko Smital
Dr.sc.
senior researcher
+385 1 456 1088

1538

+385 1 46 80 242

Ciklotronsko krilo 1/6A

Rudjer Boskovic Institute
Division for Marine and Environmental Research
Laboratory for Molecular Ecotoxicology
Bijenicka 54, 10000 Zagreb
Croatia
Education
- UniversityofZagreb, Faculty of Science; B. Sc., 1994, Biology-Ecology
- UniversityofZagreb, Faculty of Science; Mr. Sc., 1998, Biology-Toxicology
- UniversityofZagreb, Faculty of Science; PhD, 1999, Biology-Ecotoxicology
Projects
Ongoing projects:
- Ecotoxicological significance of ABC transport proteins in aquatic organisms,(2008-2013) – Project supported by the Ministry of Science Education and Sports – principal investigator;
- EDA-EMERGE - Innovative biodiagnosis meets chemical structure elucidation – Novel tools in effect directed analysis to support the identification and monitoring of emerging toxicants on a European scale,(2011-2013) – Marie Curie Initial Training Networks (ITN) project - leader of the project workgroup.
Classes
Educational Activities:
- B. Raspor, T. Smital – Course Biological effects of metals and organic pollutants on marine organisms; Postgraduate study, Oceanology, Faculty of Science, University of Zagreb;
- T. Smital – Course Ecotoxicology; Postgraduate study "Protection of Nature and the Environment", University of Osijek;
- G. Klobučar, M. Pavlica, V. Garaj-Vrhovac, T. Smital – Course Biomarkers in Biomonitoring of Environmental Contamination; Postgraduate study in Biology, Faculty of Science, University of Zagreb.
Featured Publications
Papers I consider most relevant in my career:
Smital T.andKurelec B.(1997) Inhibitors of the multixenobiotic resistance mechanism in natural waters:In vivodemonstration of their effects.Environ. Toxicol. Chem.16:2164-2170.

Smital. T.andKurelec B.(1998) The chemosensitizers of multixenobiotic resistance mechanism in aquatic invertebrates; A new class of pollutants.Mutat. Res.-Fund. Mol. M. 399:45-53.
Smital, T., Luckenbach, T., Sauerborn, R., Hamdoun, A.M., Vega, R.L.andEpel, D.(2004)Emerging contaminants – pesticides, PPCPs, microbial degradation products and natural substances as inhibitors of multixenobiotic defense in aquatic organisms.Mut. Res.-Fund. Mol. M.,552:101-117.
Žaja, R., Sauerborn Klobučar R. and Smital, T.(2007) Detection and functional characterization of Pgp1 (ABCB1) and MRP3 (ABCC3) efflux transporters in the PLHC-1 fish hepatoma cell line.Aquat. Toxicol.,81, 365-376.
Žaja, R., Caminada, D., Lončar, J., Fent, K.andSmital, T.(2008)Development and characterization of P-glycoprotein 1 (Pgp1 ; ABCB1) mediated doxorubicin-resistant PLHC-1 hepatoma fish cell line.Toxicol. Appl. Pharmacol.227, 207-218.
+ two recent articles I consider highly important:
Zaja, R., Terzić, S., Senta, I., Lončar, J., Popović, M., Ahel, M., Smital, T.(2013) Identification of P-glycoprotein (P-gp, Abcb1) inhibitors in contaminated freshwater sediments.Environ. Sci. Tech.47 (9), 4813-4821.
Popovic, M., Zaja, R., Fent, K., Smital, T. (2013) Molecular characterization of zebrafish Oatp1d1 (Slco1d1), a novel Organic anion transporting polypeptide.J. Biol. Chem. (accepted for publication, doi: 10.1074/jbc.M113.518506).
Membership in professional associations / societies
Member of Croatian Biological Society, Croatian Toxicological Society and International Society of Ecotoxicology and Environmental Safety (SECOTOX).