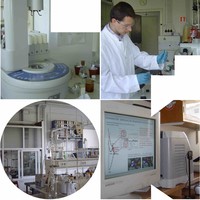 Laboratory for physical-organic chemistry
We are engaged in fundamental studies related to the omnipresent and everlasting problem of reactivity of organic and organometallic compounds. In conducting these studies, an integrated approach is employed involving synthesis, product analysis, determination of reaction mechanisms and structural interrogation via spectroscopic and computational methods. In synthetic work, extensive use of high pressure techniques and microwave assisted synthetic methods is made.
Laboratory for Physical Organic Chemistry offers chemistry students the opportunity to supplement their classroom instructions by working in a modern research environment with nonstandard facilities.