(Epi)genomics and transcriptomics of euchromatic satellite DNAs in embryogenesis and development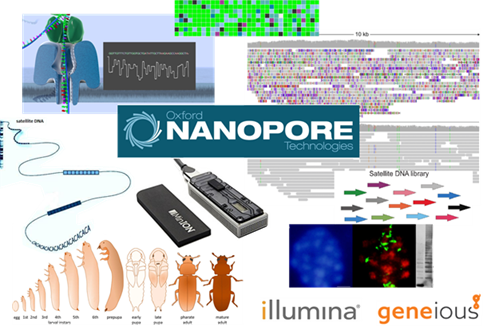 Category
Projekti Hrvatske zaklade za znanost
Satellite DNAs (satDNAs) are the most abundant and rapidly evolving non-coding DNA of all eukaryotic genomes. They are characterized by monomer sequences which are tandemly arranged into long arrays. These sequences can represent as much as or more than half of the genome content.
Previous work has focused mainly on the most prominent satDNA which form (peri)centromeric regions in many species. However, recent genome-wide analysis disclosed that in addition to standard repeat-rich regions such as (peri)centromeres,  many satDNAs exist dispersed along the euchromatin chromosomal arms. Recent studies revealed that, unlike what was previously anticipated, satDNAs are transcriptionally competent and transcripts participate in a wide range of cellular processes.
Moreover, satDNA has become a focus of interest in the recent years regarding its pathophysiologic contributions to the development and progression of cancer. The prerequisite step for comprehensive evolutionary and functional studies of euchromatic satDNAs implies knowledge about their linear genome organization. Given that satDNAs are underrepresented in the reference genome the first step in research strategy of the project will be genome sequencing using long read nanopore approach and assembling of the euchromatic satDNAs. 
The nanopore long reads will be used to generate highly contiguous genome assemblies including tandem repeats in insect model organism, Tribolium castaneum.  The project combines computational and experimental approaches to produce the high-resolution sequence maps of euchromatic satDNAs in order to disclose evolutionary trends and dynamics of euchromatic satDNAs on the genome scale, and investigate functional potential and biological importance of euchromatic satDNAs.
Project members
Brankica Mravinac, PhD, IRB
Evelin Despot-Slade, IRB
Marin Volarić, IRB
Martina Pavlek, PhD; IRB
Tanja Vojvoda Zeljko, PhD, IRB
Gregor Bucher, PhD, Georg August University Göttingen, Germany