ProNetMel - New Protein Networks for Novel Therapeutic Avenues in Human Melanoma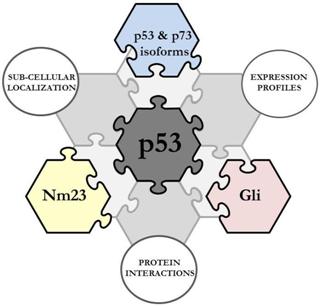 Category
Projekti Hrvatske zaklade za znanost
Metastatic melanoma represents a major clinical problem due to rising incidence and resistance to available therapies. Therefore, there is a necessity for developing novel molecular approaches to treat this disease. Unlike other tumors, in melanoma p53 is relatively rarely mutated. However, overexpressed p53 fails to function as a tumor suppressor and tumor cells continue to proliferate and spread. This suggests that regulation of p53 activity depends on the interplay between p53 and its binding partners. Based on current state of knowledge, we hypothesize that p53 function in malignant melanoma might be altered through the interactions with p53 small molecular weight and p73 isoforms, nm23/NDPK and Gli families of proteins. Thus we will search for p53 protein binding partners in melanoma. The interactions identified by mass spectrometry will be further confirmed using microarray-based approaches and co-immunoprecipitation techniques. Furthermore, the expression profile of genes/proteins of interest in panel of melanoma cell lines and melanoma tissue samples will be investigated. The potential impact of the identified p53 interacting partners on its transcriptional activity and the stimulation of apoptosis will be determined. The depletion of partners using siRNA technology would confirm the involvement of selected proteins on p53 activity. The subcellular localization of the proteins in complex will be revealed by advanced fluorescent microscopy methods on state-of-the-art instrumentation what would give us the insight on dynamics of their interactions. The proposed research could provide a possible explanation why p53 function in melanoma is abrogated. The aim of this project is to determine the complexity of p53 interactions and their role in the onset and progression of human melanoma and offer new, innovative solutions in diagnosis, prognosis and therapy.
Publications:
Tadijan A., Precazzini F., Hanžić N., Radić M., Gavioli N., Vlašić I., Ozretić P., Pinto L., Škreblin L., Barban G., Slade N.*, Ciribilli Y.* Altered Expression of Shorter p53 Family Isoforms Can Impact Melanoma Aggressiveness. Cancers (2021) 13, 5231. https://doi.org/10.3390/cancers13205231 *corresponding authors
Horvat, A.; Tadijan, A.; Vlašić, I.; Slade, N. p53/p73 Protein Network in Colorectal Cancer and Other Human Malignancies. Cancers (2021) 13, 2885. https://doi.org/ 10.3390/cancers13122885. 
Radić M., Šoštar M., Weber I., Ćetković H., Slade N., Herak Bosnar M. The Subcellular Localization and Oligomerization Preferences of NME1/NME2 upon Radiation-Induced DNA Damage. Int J Mol Sci (2020) 21(7):2363. 
Ozretić P.+, Hanžić N.+, Proust B., Sabol M., Trnski D., Radić M., Musani V., Ciribilli Y., Milas I., Puljiz Z., Herak Bosnar M., Levanat S., Slade N. Expression profiles of p53/p73, NME and GLI families in metastatic melanoma tissue and cell lines. Sci Rep (2019) 9(1):12470. +equal contribution
Knezović M., Ozretić P., Bujak M., Pezzè P., Ciribilli Y., Kaštelan Ž., Slade N.*, Hudolin T. The role of p53 isoforms' expression and p53 mutation status in renal cell cancer prognosis. Urol Oncol – Semin Ori (2019) 37(9):578.e1-578.e10. *corresponding author 
Jazvinšćak Jembrek M., Slade N., Hof P.R., Šimić G. The interactions of p53 with tau and Aß as potential therapeutic targets for Alzheimer's disease. Prog Neurobiol (2018) 168:104-127.
Conference papers:
Ozretić, Petar; Radić, Martina; Hanžić, Nikolina; Proust, Bastien; Sabol, Maja; Ciribilli, Yari; Milas, Ivan; Puljiz, Zvonimir; Bosnar Herak, Maja; Levanat, Sonja; Slade, Neda. Functional interplay between p53 and p53/p73 isoforms in human melanoma // International p53/p63/p73 Isoforms Workshop, Book of Abstracts / Slade, Neda (Eds) Zagreb, 2019, 23 (invited lecture)
Radić, Martina; Dekanić, Ana; Jazvinšćak Jembrek, Maja; Ozretić, Petar; Herak Bosnar, Maja; Slade, Neda. p53 in resistance to targeted therapy in metastatic melanoma // International p53/p63/p73 Isoforms Workshop, Book of Abstracts / Slade, Neda (Eds) Zagreb, 2019, 126 (poster)
Ozretić, Petar; Radić, Martina; Hanžić, Nikolina; Proust, Bastien; Sabol, Maja; Trnski, Diana; Musani, Vesna; Jazvinšćak Jembrek, Maja; Ciribilli, Yari; Milas, Ivan; Puljiz, Zvonimir; Bosnar Herak, Maja; Levanat, Sonja; Slade, Neda. Functional interplay between p53 and p53/p73, NME and GLI protein families in human melanoma // HDBMB2019 Crossroads in Life Sciences / Katalinić, Maja; Dulić, Morana; Stuparević, Igor (Eds.). Zagreb: Croatian Society of Biochemistry and Molecular Biology, 2019, 43 (invited lecture)
Radić, Martina; Jazvinšćak Jembrek, Maja; Sabol, Maja; Herak Bosnar, Maja; Slade, Neda. Otpornost na ciljanu terapiju u metastatskom melanomu // Simposium "First 10 years HDIR" – knjiga sažetaka / Ozretić, Petar (ur.). Zagreb: Hrvatsko društvo za istraživanje raka (HDIR), 2019, 11 (invited lecture)
Hanžić, Nikolina; Proust, Bastien Lucien Jean; Ozretić, Petar; Radić, Martina; Horvat, Anđela; Milas, Ivan; Puljiz, Zvonimir; Herak Bosnar, Maja; Levanat, Sonja; Slade, Neda. Functional interplay between p53 and p53/p73, NME and GLI protein families in human melanoma // Libri oncologici, Zagreb, Hrvatska, 2018, 51 (poster)
Radić, Martina; Hanžić, Nikolina; Herak Bosnar, Maja; Slade, Neda. Protein interactions of wild-type p53 in human melanoma // HDIR-5 Meeting, Libri Oncologici, Croatian Journal of Oncology. Zagreb: University Hospital for Tumors, Zagreb, Croatia, 2018, 93 (poster)
Slade, Neda; Hanžić, Nikolina; Radić, Martina; Ozretić, Petar; Petrović, Lidija; Jazvinšćak Jembrek, Maja. EXPRESSION PROFILES OF P53/P73 ISOFORMS IN HUMAN MELANOMA CELL LINES // ESMO Open - Abstracts of the 25th Biennial Congress of the European Association for Cancer Research, Amsterdam, The Netherlands, 30 June - 3 July 2018 / Berns, Anton (ur.). London: European Society for Medical Oncology, 2018, 463 (poster)
Ozretić, Petar; Hanžić, Nikolina; Trnski, Diana; Proust, Bastien Lucien Jean; Radić, Martina; Sabol, Maja; Milas, Ivan; Herak Bosnar, Maja; Levanat, Sonja; Slade, Neda. Expression Profiling of TP53, TP73, NME and GLI Families of Genes/Proteins in Metastatic Melanoma // ESMO Open - Abstracts of the 25th Biennial Congress of the European Association for Cancer Research, Amsterdam, The Netherlands, 30 June - 3 July 2018 / Berns, Anton (Eds) London: European Society for Medical Oncology, 2018. A284-A284 doi:10.1136/esmoopen-2018-EACR25.672 (poster)
Radić, Martina; Hanžić, Nikolina; Herak Bosnar, Maja; Slade, Neda. Protein interactions of wild-type p53 in human melanoma // FEBS3+ From molecules to living systems Final programme & Book of Abstracts, Siofok, Hungary, 2018, 272 (poster)
Hanžić, Nikolina; Ozretić, Petar; Trnski, Diana; Radić, Martina; Herak Bosnar, Maja; Levanat, Sonja; Slade, Neda. The expression of p53/p73 isoforms, NME and GLI in melanoma cell lines // 3rd international p53 isoforms workshop / Bourdon, J. C.; Gjertsen, B. T.; Braithwaite, A.; Mollereau, B.; Rotter, V.; Roux, P.; Terrier, O. (Eds). Bergen: Academic Press, 2017, 72 (invited lecture, poster)
Martina Radić, Marko Šoštar, Helena Ćetković, Igor Weber, Neda Slade, Maja Herak BosnarNDPK A and NDPK B – subcellular dynamics and interactions // 13th Multinational Congress on Microscopy, Rovinj, Hrvatska, 24. - 29.09.2017. Rovinj, Croatia, 2017, 199-199 (poster)
Hanžić, Nikolina; Petrović, Lidija; Sabol, Maja; Herak Bosnar, Maja; Levanat, Sonja; Slade, Neda. The expression of p53/p73 isoforms, nm23/NDPK and Gli in Mel 505 melanoma cell line upon γ- irradiation // Book of Abstracts of the Congress of the Croatian Society of Biochemistry and Molecular Biology on the occasion of the 40th Anniversary, HDBMB2016 / Katalinić, Maja ; Kovarik, Zrinka (Eds) Zagreb: Croatian Society of Biochemistry and Molecular Biology, 2016, 83-83 (poster)
Hanžić, Nikolina; Proust, Bastien Lucien Jean; Petrović, Lidija; Ozretić, Petar; Milas, Ivan; Herak Bosnar, Maja; Levanat, Slade; Slade, Neda. The Expression of p53/p73 Isoforms, NME and GLI in Metastatic Melanoma and Their Induction by γ-Irradiation // HDIR-4 - 4thMeeting with International Participation "From Bench to Clinic / Beketić-Orešković, L ; Kusić, Z ; Šarčević, B (Eds) Zagreb: Libri Oncologici, 2016, 18 (lecture)
Hanžić, Nikolina; Proust, Bastien Lucien Jean; Petrović, Lidija; Ozretić, Petar; Herak Bosnar, Maja; Levanat, Sonja; Slade, Neda. The expression of NME, p53/p73 isoforms and GLI and their induction by ɣ-irradiation in metastatic melanoma // NDPK2016-The 10th International Congress of the NDP Kinase/Nm23/awd Gene Family / Ćetković, H ; Herak Bosnar, M (Eds) Zagreb: Institut Ruđer Bošković, 2016, 52 (poster)
Hanžić, Nikolina; Petrović, Lidija; Sabol, Maja; Herak Bosnar, Maja; Levanat, Sonja; Slade, Neda. The expression of p53/p73 isoforms, nm23/NDPK and Gli in MEL505 melanoma cell line upon gamma-irradiation // HDBMB2016 – on the Occasion of the 40th Anniversary / Katalinić, Maja, Kovarik, Zrinka (Eds) Zagreb: HBDBM, 2016, 83 (poster)