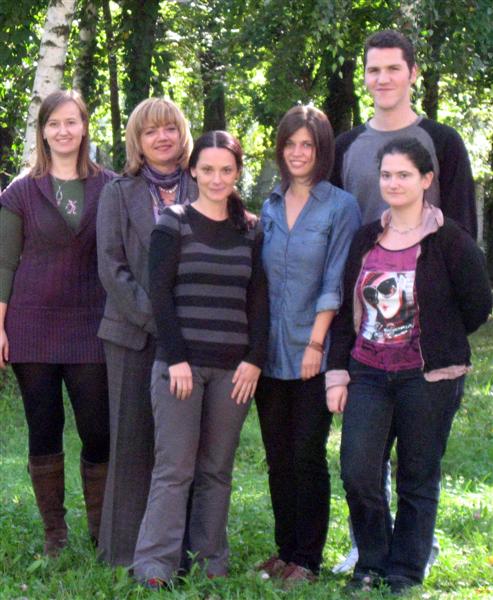 Major research directions of the Laboratory for Hereditary Cancer are:
Basic scientific research of signal transcduction with special emphasis on implementation of new research technologies;
Applied scientific research of cancer and hereditary diseases focused on procedures which can be used in diagnostics of hereditary diseases and cancer therapy;
Development of bioinformatics and in silico modeling based on the results of main research directions
The major focus of our research activities is the Hh-Gli signaling pathway, also known Hh-Ptc, Hh/Ptc/Smo,  Hedgehog-Gli or Hedgehog-Patched. It is an evolutionary highly conserved pathway of signal transduction from the cell membrane to the nucleus. The pathway plays a major role in normal development, and its malfunctioning is associated with developmental malforamtions and cancer.
The aims of our research are mechanisms of aberrant Hh-Gli signaling pathway activation in selected tumors (including interactions with other genes and signaling pathways) as well as potential inhibition of tumor growh via inhibtion of the pathway. Epigenetic regulation of the Hh-Gli signaling pathway is also being investigated, and have so far resulted in a hypothesis that PTCH1 gene promoter methylation is one of the possible regulatory mechanisms.
Based on latest estimates, this signaling pathway is involved in almost 1/3 of all lethal tumors, and is becoming a relevant target for potential cancer therapy. Our experiments on pathway inhibition have contributed to this hypothesis. This points to the extreme importance of further research on mechanisms leading to aberrant activation of the pathway, as well as the searc for new potential inhibitors.
Applied research is focused on hereditary breast cancer, especially BRCA1 and BRCA2 genes. The analysis of these two genes can be used in early diagnostics and therapy of breast cancer, and the new methods used for their analysis could also be used for other tumors and hereditary diseases. The method for BRCA1 and BRCA2 mutation detection has been commercialized, and additional genes relevant for breast cancer development may soon be included in the analysis (CHEK2...).
Within the laboratory we have a service for DNA sequencing and fragmental analysis which is available for the public
Principal investigator:
dr.sc.
Maja
Sabol
Principal investigator:
dr.sc.
Neda
Slade