10th International Summer School on Biophysics to be held in Rovinj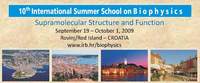 The 10th International Summer School on Biophysics 'Supramolecular Structure and Function' (ISSB'09) to be held in Rovinj, Croatia from 19 September - 1 October 2009 is organised by the Ruđer Bošković Institute and the Croatian Biophysical Society, supported by UNESCO, the Ministry of science education and sports of the Republic of Croatia, IUPAB, EBSA, and the Adris Group Foundation (Croatia), with a view to contribute to the strengthening of scientific co-operation among scientists from South Eastern Europe.
ISSB'09 will follow the successfully-established interdisciplinary pattern of schools under the same title held in Dubrovnik and Rovinj since 1981. The school is designed to cover basic as well as specialized topics of biophysics. Although it is intended for young students at the doctoral or postdoctoral levels interested in molecular nature of fundamental biological entities, the School is also of interest to experienced scientists wishing to gain a broader insight into the molecular basis of biological structures and functions. The International Summer Schools on Biophysics have very broad scope, since the intention is to organize courses that provide advance training at doctoral or postdoctoral level in areas related to biophysics. It is worth to mention that some universities included the International Summer School on Biophysics in the curriculum of their doctoral studies. The School has essentially a catalytic role and is complementary to activities of parallel national or international programmes.
The structure of the School includes lectures, seminars and round-table discussions. One week of the 'core curriculum' where basic biophysical knowledge is presented by very prominent lecturers is followed by the second week, which is devoted to the topic(s) varied at each school. Major topics are presented in a series of lectures which include inter- and intramolecular interactions in biological systems; structure, organization and function of biological macromolecules and supramolecular assemblies; major techniques in biophysics and evolutionary implications of molecular interactions. This particular scope of the school enabled the participants to get acquainted with the state-of-art problem-oriented and/or methodology-oriented approaches to biological systems.
International Summer School on Biophysics has an honourable thirty years long tradition. Initiator of the Summer School, its current director and certainly its spiritus movens is professor Greta Pifat Mrzljak who has always managed to bring together the top world`s scientists and motivated students. This year, the summer school on Biophysics will gather 106 participants and 25 speakers among which Prof. Nenad Ban, Prof. Charles Cantor, Prof. Ivan Đikić, Prof. Davor Pavuna, Prof. Joseph Schlessinger, Prof. Heinz-Jürgen Steinhoff, and Prof. Igor Štagljar. In recognition of her outstanding record of accomplishments and leadership of the triennial international summer schools and textbooks on Supramolecular Structure and Function American Biophysical Society has awarded professor Greta Pifat Mrzljak, PhD, with the Emily M. Gray Award for 2010.