Annual Awards Presented to RBI Scientists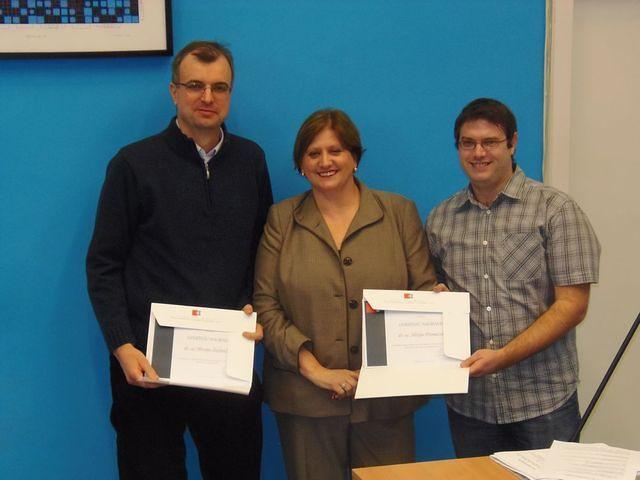 Yesterday, the Director General of the Ruđer Bošković Institute, Danica Ramljak, Ph.D., presented Annual Awards to scientists who particularly distinguished themselves through their work in 2011. Over thirty RBI scientists received awards, in accordance with European and international criteria, for the publication of one or more papers with a high impact factor, obtaining an international or domestic research grant of over 500,000 HRK or a project of exceptional importance to the RBI, an international patent or for scientific work included in the National Science Awards. 
The Annual Awards were established last year by the Director General, Dr. Ramljak, as part of a strategy for the direct promotion of excellence, creativity and innovation, which should have a long-term impact on creating an effective and supportive environment that will stimulate competitiveness. On this occasion, she said that she was particularly pleased that four RBI scientists had published papers within the highly prestigious Nature Publishing Group.
In December of this year, Marijan Ahel, Ph.D., was a coauthor of a paper published in the journal Nature, the results of which, together with great fundamental significance, provide certain methodological advantages that could be applicable in the treatment of breast and ovarian cancers. After appearing on the cover of Nature last year, this year Dr. Tomislav Domazet-Lošo was featured in the journal Nature Reviews Genetics for the discovery that genes are spontaneously created. Enis Afgan, Ph.D., published an outstanding scientific article in Nature Biotechnology, the results of which provide easy access to an environment for performing bioinformatic analysis of the cloud infrastructure through the Galaxy Web Application. Tin Klanjšček, Ph.D., published a paper in the new journal Nature Communication on the impact of climate change upon polar bear reproduction.
It is important to mention that the scientists who received awards achieved important results in physics, chemistry, biomedicine and molecular biology. They published papers in the leading journals in these fields and received significant funding within the FP7 and other international and domestic competitive projects.
Dr. Ramljak said that she hopes that these awards will encourage other scientists to achieve high quality scientific results, and she will continue to try, to the extent possible, to set aside funds for encouraging excellence in scientific work because this contributes to creating stronger recognizability for the RBI and its scientists in the world.