Article by dr. Maja Buljan Published in Virtual Journal of Nanoscale Science & Technology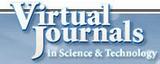 Dr. Maja Buljan (Semiconductor laboratory, Department of Material Physics) has been recognized for her research in spatially ordered Ge nanocrystals in amorphous mattrices deposited on periodically corrugated-rippled silicon substrates.
Following publication of her article on Growth of spatially ordered Ge nanoclusters in an amorphous matrix on rippled substrates in the prestigious journal Physical Review B82 (125316) on September 14.2010, the editors of the Virtual Journal of Nanoscale Science and Technology chose the article as a highlight in the Sept.20th issue of the journal.
The Virtual Journal, published by the American Institute of Physics and the American Physical Society in collaboration with a number of other associations and journals is compilation of highlighted articles which are selected from the forefront of research published in journals in the collaboration of publishers. The purpose of the compilation is to facilitate access to important published articles at the forefront of research in specialized fields.