Celebrating the International Year of Astronomy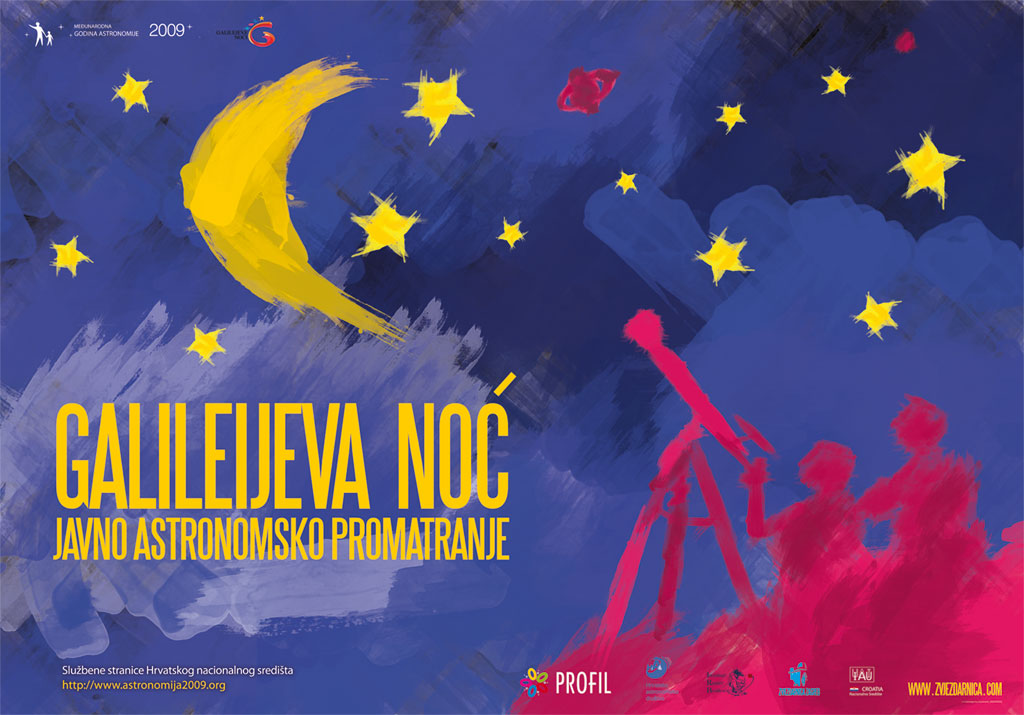 The Ruđer Bošković Institute partnered with the Observatory Zagreb and the Croatian Astronomic Society to celebrate Galileo's night. On Saturday, 26 September 2009, our visitors will have the opportunity to observe the sky through powerful telescopes, see a poster show "New era of Discovery", take part in numerous workshops on astronomy and watch a DVD on 50th anniversary of NASA on Zagreb's main square. The video show is sponsored by the U.S. Embassy.
Cijeli će događaj započeti već u 10.00 sati kada će građani imati priliku promatrati Sunce sa Trga bana Jelačića gdje će uz teleskope biti postavljen i šator u kojem će biti organizirana astronomska radionica s nagradnom igrom, a bit će prikazan i NASA-in dokumentarni film 50 godina istraživanja, snimljen povodom obilježavanja četrdesete obljetnice slijetanja čovjeka na Mjesec. Navečer će u razdoblju od 19.00 – 22.00h biti postavljeni teleskopi i na Dolcu gdje će svi prisutni građani moći uživati u čarima Mjeseca i Jupitera.
U subotu 26.9.2009. možda nećete dobiti odgovore na sva pitanja o svemiru, ali će vam ovo promatranje zasigurno zagolicati maštu i otkriti pokoju malu tajnu zvijezda i planeta, stoga se pridružite našim astronomima i uživajte u novim spoznajama i svemirskoj subotnjoj večeri.