Croatia joins MAGIC Collaboration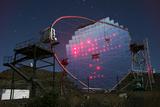 At the last Governing Board meeting of collaboration MAGIC (Major Atmospheric Gamma-ray Imaging Cherenkov), which was held on the Island of Elba, Italy, a Croatian team of scientists was unanimously accepted in full membership thanks to the support provided by their home institutions: Ruđer Bošković Institute (RBI), University of Split and the University of Rijeka as well as the support of the Ministry of Education and Sports and the National Foundation for Science.
Croatian MAGIC group, formed at the initiative of Daniel Ferenc, PhD, besides RBI scientists Dario Hrupec, PhD and Tihomir Surić, PhD, gathers scientists from the University of Rijeka Dijana Dominis Prester, PhD and Tomislav Terzić, PhD as well as Zeljka Antunović, PhD, Nikola Godinović, PhD and Ivica Puljko, PhD from the University of Split. During a one-year probationary period Croatian scientists have worked on the observations, data analysis and development of new analysis methods and ensured part of the funds for the 10 million euro worth observatory. Besides the Croatian scientists, MAGIC team gathers more than 150 scientists from Germany, Italy, Spain, Switzerland, Poland, Finland, Bulgaria and the USA. MAGIC telescopes, located at the Roque de los Muchachos Observatory, in the Canary Island of La Palma in Spain, are the largest Cherenkov telescope in the world.