Director General of the RBI Attends Windays11 Business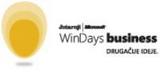 The round table discussion brought together leading people from the fields of science, education and technology, including the Director General of the Ruđer Bošković Institute, Danica Ramljak, Ph.D.; Mislav Balković, Dean of the University College for Applied Computer Engineering; Prof. Vedran Mornar, Ph.D., President of the National Council for Higher Education; Davor Pavuna, Ph.D., École polytechnique fédérale de Lausanne EPFL; Goran Radman, Ph.D., Dean of Vern' University of Applied Sciences; and Ivan Vidaković, the General Manager of Microsoft Croatia.
Microsoft Windays11 is the largest Croatian business-technological conference at which over a hundred lecturers from Croatia and other countries delivered nearly 140 presentations over a four-day period on current topics from the world of technology, including products that facilitate the implementation of "computing in the clouds." Microsoft Windays11 consisted of a technological conference, Windays11 Technology, and a business conference, Windays11 Business. This year, the conference was dedicated to issues of business growth and development, regional and global expansion, and the role of modern technologies in achieving competitive advantages.