Director's Prize for Most Successful RBI Scientists Awarded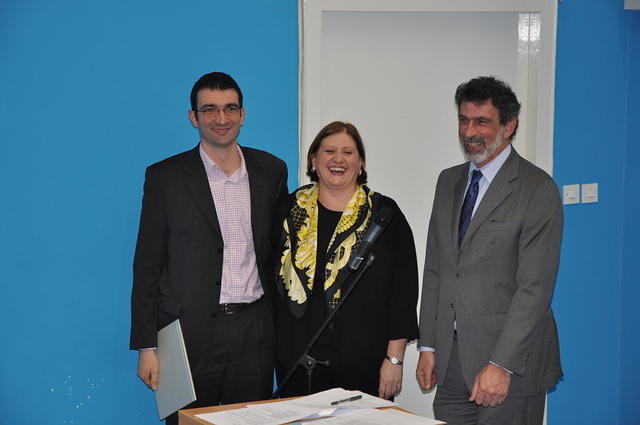 Yesterday at a celebratory event held at RBI, the annual Director's Prize was awarded to some of RBI's most successful scientists. Almost 50 RBI scientists received the awards which were given for publication in high impact journals, successful grant applications (grants greater than 500,000 kn), projects of special importance to RBI, successful international patent applications as well as for scientific work honored with state awards for science.
The Director's Prizes were handed out to recipients by Dr. Radovan Fuchs, Minister of Science, Education and Sports and Dr. Danica Ramljak. Among this year laureates was Dr. Tomislav Domazet-Lošo who received the award for his work which was recently featured as a cover article in the prestigious scientific journal, Nature.
The award ceremony was attended by Dr. Petar Selem, chair of the parliamentary committee for education, science and culture in Croatia, Dr. Zvonimir Kusić, recently elected president of the Croatian Academy of Science and Arts, Dr. Ivana Mrkonjic, state secretary in the Ministry of science, education and sports, Snježana Bahtijari, director of communications at Ericsson Nikola Tesla, Dr. Slavko Krajcar, president of the RBI Board of Directors, Mrs. Alessia Pozzi and Dr. Kristijan Vlahoviček, representatives of the UKF as well as many other dignitaries from business, academia and public life.
The newly established annual Director's Prizes are part of an overall strategy of the RBI to directly reward excellence. The aim is to increase the profile of exceptional scientists and to stimulate their further scientific work at RBI. The awards are also intended to stimulate creativity and innovation, and in the long run create a stimulating and effective scientific system which will increase competitiveness. In addition, another aim is to stimulate scientists to become entrepreneurs and commercialize scientific innovation and research.