EMBL deepens ties with Croatia
Visit of delegation from the Ruđer Bošković Institute to EMBL Heidelberg marks a new chapter in scientific and institutional cooperation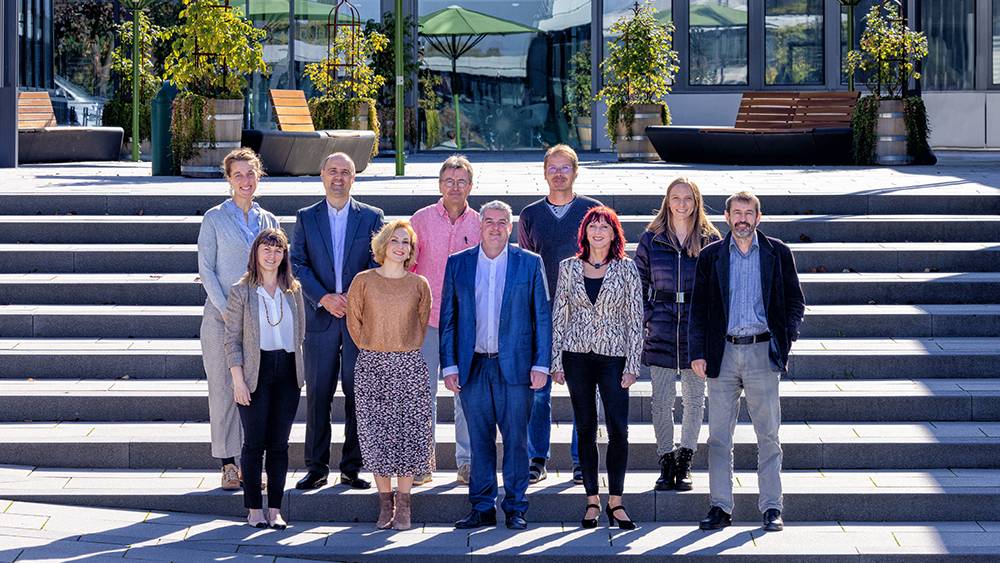 On Monday EMBL Heidelberg welcomed a delegation from Croatia's Ruđer Bošković Institute (RBI) to scientists to discuss shared aims and explore opportunities for greater scientific cooperation between the two organisations.
The delegation, led by RBI Director General David Smith, met with EMBL leadership and senior scientists to learn more about each other's work and scientific visions and identify potential areas of cooperation between RBI and EMBL along the lines of the recently signed MoU between the two institutes and the Transversal Themes of EMBL's new programme Molecules to Ecosystems.
The visit also represented an opportunity for RBI to visit EMBL's Core Facilities and the recently opened EMBL Imaging Centre and learn more about the wide range of scientific services and resources available to Croatian scientists.
Following the EMBL Info Days in Croatia last June, the visit looked into further bolstering links with the Croatian scientific community and strengthening the institutional and scientific cooperation between EMBL and RBI under the new Programme.
The high-level visit follows the signing of a Memorandum of Understanding between the two organisations earlier this year. This MoU highlights the partners' shared goals and research interests, particularly in the fields of data science, human ecosystems, and planetary biology.
Speaking during the visit, the EMBL Head of International Relations, Plamena Markova, said: "Today's visit is a wonderful opportunity to continue our dialogue and dive deeper into our respective scientific priorities and how they could match and be complementary. We were able to identify several areas, in which joint initiatives between RBI and EMBL could bring an important added value to both Croatian and European research, and we are well-equipped and motivated to act on them together in the coming months."
The Ruđer Bošković Institute is Croatia's largest multidisciplinary scientific research centre. Founded in 1950, its mission is to support excellent scientific research in the natural and biomedical sciences as well as marine and environmental research. Croatia joined EMBL in 2006 and enjoyed a mutually constructive and evolving collaboration.
During the visit the Director General of RBI, David Smith, added: "As Croatia continues and emphasises its European journey, it becomes completely natural for Croatia's largest research institution to strengthen its ties to EMBL. I see today's visit, which included Croatian experts in spectroscopy, microscopy, molecular biology, molecular medicine and ecology, as the next logical step in the collaboration between RBI and EMBL. Apart from the excellent scientific overlap we discussed today, it is particularly relevant for the RBI, given its present developmental course, to understand the detailed functioning of modern and open research infrastructure."
Source: embl.org